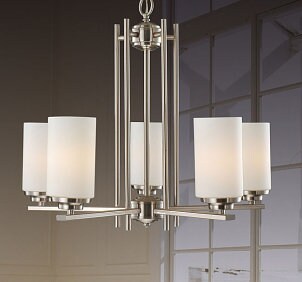 Whether you are building your dream house or just sprucing up your current home, a chandelier is a great way to add ambiance and decoration to a room. Chandeliers and pendants aren't just for formal dining rooms. The right chandelier can look great in any room. Although chandeliers come in a wide variety of styles, let's start with the top five.
The Top 5:

Crystal chandeliers: If you want a chandelier that will command the attention of a room, go for a dazzling and dramatic crystal chandelier. These chandeliers are meant to impress and often come in two- or three-tiered varieties. Crystal chandeliers are typically found in the dining room or entryway of a house.

Traditional chandeliers: If you want something more subtle in your lighting, you might want to go with a traditional style. Constructed most frequently of wrought iron, traditional chandeliers are as durable as they are beautiful. Traditional chandeliers can be dressed up with beautiful accents, or you can let the metal scrolling speak for itself. Unlike crystal chandeliers, traditional chandeliers are meant to add to the overall appearance of the room without taking center stage.

Contemporary chandeliers: More than just a lighting fixture, a contemporary chandelier is a statement of your personal style. Usually, these chandeliers feature a more striking metal than wrought iron. Chrome and brushed nickel are used extensively and accented with colored or frosted glass. This chandelier is an excellent lighting features as well as being a focal point for a room. From funky to modern, you are sure to find a contemporary chandelier to fit any room.

Rustic/lodge chandeliers: These chandeliers can be made from metal, animal antlers or even wood. Rustic chandeliers typically focus on nature and wildlife themes. Rustic chandeliers imply purity. They are made to suggest a rural look, untouched by urban trends. These chandeliers would typically be found in a cabin or country home but could be used in a modern home with the right decor.

Mini chandeliers: Mini chandeliers, or Chandelettes, are one of the newest design trends. With their small size, you can put them in the most unexpected places. These chandeliers range in size from 9 to 12 inches. They aren't recommended for large spaces but as an accent to a more intimate space. Try placing one in your bathroom or walk-in closet to make a designer statement. Mini chandeliers are also the perfect size to hang above nightstands or end tables in lieu of a table lamp or wall sconce.

View All Chandeliers and Pendants
Back to Guides Directory