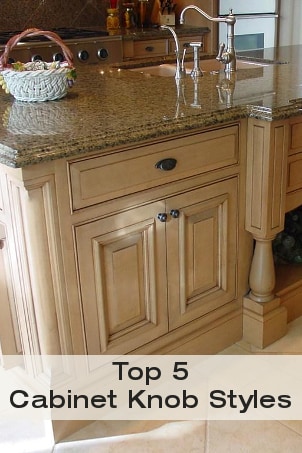 Successful home decor often comes down to the little details. One way to add a flourish to your kitchen or bath is with cabinet hardware. The right cabinet knobs and pulls can provide the perfect accent to your kitchen. You can find almost any knob to fit your cabinet and kitchen style. Here are the top five styles to give your kitchen or bath that perfect finishing touch.
Popular Hardware Styles:

Modern: Smooth lines and angles are what set modern cabinet knobs apart. Sleek, sharp-angled cabinet hardware can complement modern-looking stainless steel or brushed nickel appliances. Tubular bar pulls and flat bar pulls are some of the biggest trends in modern cabinet hardware. Modern knobs will work best when paired with modern kitchen styles, but don't be afraid to experiment with contrasting styles of knobs, pulls, and cabinets.

Antique: Genuine hardwood cabinets are paired well with antique-style cabinet knobs. Hardware made from oil-rubbed bronze, brass, or weathered nickel can add a rustic look to your kitchen. Crystal, glass, and ceramic hardware all come in a variety of colors, so you can find one that will contrast with your cabinets. This style works well with New England cabinet styles like Nantucket, Shaker, and Mission.

Satin pewter: Another rustic choice is satin pewter cabinet knobs. The die-cast metal of the cabinet knobs has an old, weathered look. Pewter cabinet pulls are often very detailed, and the texture of pewter cabinet knobs makes even simple knob designs stand out on a cabinet door.

Cup pulls: Cup pulls are a great choice for either modern or rustic kitchen styles. They can look weathered or polished and modern, depending on the material and the finish. Matching cup pulls with cabinet knobs with similar finishes is a great idea, too. Put cabinet knobs on the doors and cup pulls on the drawers to mix things up.

Wood carved: Nothing compares with wood for warmth and style. Using wood carved cabinet knobs shows the natural wood-grain. Using cabinet knobs made from dark wood, like walnut, can make a beautiful contrast with lighter cabinet wood.
What Do You Want to Do Next?

Shop Cabinet Hardware
Shop Drawer Hardware
Shop All Home Improvement
See All Guides
Read More Home Improvement Guides
Learn More about Hardware