Bohemian style is effortless and versatile, allowing anyone to infuse their personal tastes into their home. Boho decor has become a beautiful and exotic trend that gives off a well-traveled and curated vibe.
Gracing every space from studio apartments to full-sized homes, bohemian style is about cultivating a room tied together with treasured keepsakes and earthy prints. No bohemian-themed room is complete without an area rug that is eco-friendly and serves as a landing place for large floor cushions and furnishings from around the world.
Follow your free-spirited nature when you customize your space with these top five bohemian area rugs. If you can't get enough of this energetic and colorful style, learn how to transform your home into a bohemian paradise with Boho Chic Furniture & Decor Ideas.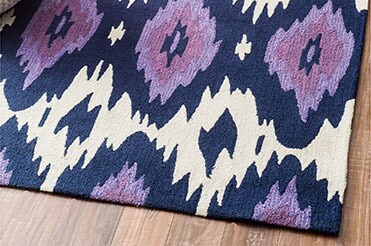 Ikat Rugs
Ikat rugs might be the most popular bohemian style area rugs out there. This beautiful, ancient pattern where tie-dye meets geometric is completely at home in any boho space. Whether you're looking for an elaborate Japanese Ikat, or diamond-like South American Ikat, this area rug brings a wide array of color into your space. Ikat rugs are great for layering, especially if you're the eclectic type who loves to mix patterns!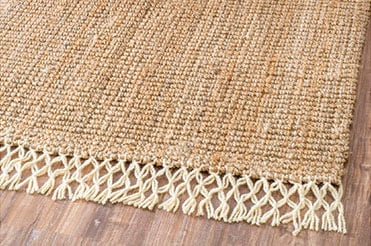 Jute Rugs
Boho style area rugs usually have an exotic or earthy look, which is what makes a jute rug perfect for this kind of decor. Made of woven jute plants that produce a glossy, straw-like fiber, jute rugs are extremely durable and affordable. They have a look that can ground any bright, bohemian room, in nature. Use a jute rug in your studio space or sunroom, and don't forget hanging macrame planters for an indoor garden feel.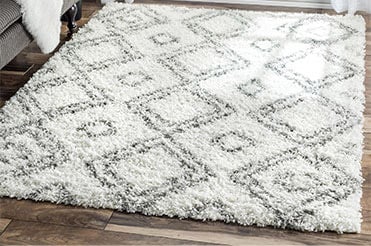 Shag Rugs
If you like to walk on the wild side with your bohemian decor, a shag rug is an incredibly cozy choice. Shag rugs add comfortable style and are especially useful for warming up hardwood or concrete floors. If you want the rustic look of a cowhide rug, but still need something to wiggle your toes into, try a flokati rug made of fluffed sheep's wool. Place one by your bed for guaranteed warmth as soon as your feet hit the floor in the morning.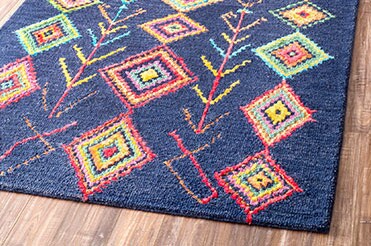 Southwestern Rugs
Southwestern rugs have Americanized Aztec patterns and are great for layering and color Ikat rugs. The motifs and shapes used in Aztec rugs are sharper than Ikat patterns, allowing you to create a graphic bohemian look. Use this rug as unexpected detail in a southwestern-style home, or to brighten up small spaces such as dorm rooms or studio apartments.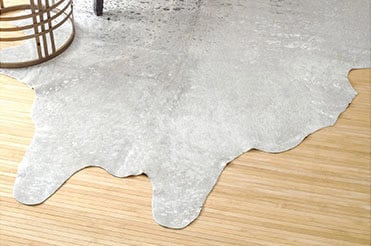 Cowhide Rugs
Cowhide has been used for centuries as a practical floor covering, but what makes hide a great bohemian style area rug is the decidedly raw look it gives a room. Hide rugs look rustic when used to pull together fireside seating and add instant edge to offices and bedroom. If you want an affordable or cruelty-free way to achieve the look of a cowhide rug, have no fear! Faux rugs offer the same cozy, rugged ambience as the real thing. Use cowhide rugs to break up an industrial loft or add a natural element to modern decor.