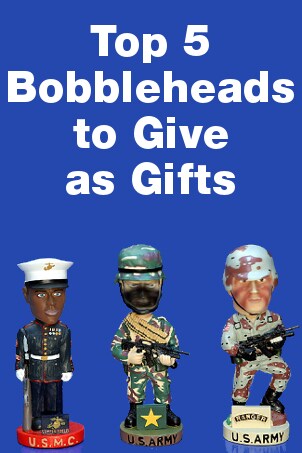 SHOP BOBBLE HEADS NOW >>
You're sure to see a smile when you give a bobblehead as a gift. These fun and cheerful toys are often made to offer tribute to a famous personality or character. Bobbleheads are collectible caricature dolls and have some similarity with cartoon characters, as the primary intention of these dolls is to entertain and charm. Bobblehead dolls are often given as gifts for that very reason.
Best Bobblehead Gifts:

Sports figures: Sports bobbleheads are popular among children and adults. Baseball and football players are particularly popular, but you can find a wide variety of sports bobbleheads. These make great children's gifts and can provide a motivating factor for the sports-loving child when placed on his or her desk.

Sci-fi characters: Sci-fi bobbleheads always remain a top priority for people who want to show their love of the genre. Do a quick search for bobbleheads on any of your favorite characters from science fiction shows that you and your loved ones like to watch and you're sure to find some entertaining options for the whole family.

Political figures: Give the politics-lover in your life a bobblehead doll of a prevalent political figure. The president, vice president, and top cabinet officials frequently have many types of bobbleheads formed in their likeness. Take note of other news-making political figures, too, as they will likely be featured as a bobblehead soon after making a headline.

Celebrities: Celebrity bobbleheads are popular because many people have at least one celebrity they admire and whose paraphernalia they collect. Magazines and posters of celebrities can get boring after a while; bobbleheads of celebrities make great gifts and provide a fun and interesting way to commemorate a favorite star.

Book characters: Fictional characters can be so interesting that it's almost like they are real. A bobblehead doll of a fictional character is an excellent gift for someone who loved a book and related to the character. Depending on the book character, this is a great gift for a child or an adult.

Shop Bobbleheads
Shop Other Collectibles
Shop All Collectibles
See All Guides
Read More Toy & Hobby Guides
Learn More about Collectibles