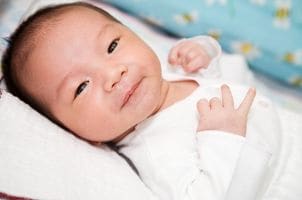 New babies spend a good portion of their time sleeping, and while they'll likely do a lot of that sleeping in your arms and on grandma's lap, a quality baby bed is an important baby furniture investment. When you are shopping for a baby bed, it is important to consider a variety of types, including bassinets and cradles. Baby bassinets and baby cradles offer many benefits over traditional baby furniture. Bassinets and cradles are more portable than cribs and other baby beds, and they allow you to keep baby close night and day. They also offer fun and different style choices. Consult our list of the top five benefits of bassinets to decide if a baby bassinet or baby cradle is right for you and your child.
Benefits of Bassinets:

Bassinets allow you to keep your infant nearby. Even if you have space for a nursery in your home, you will likely want to keep your new baby close to you at night, at least for the first few months. Studies have shown that infants who sleep with their parents have a reduced incidence of Sudden Infant Death Syndrome. Bassinets and cradles allow you to have your baby nearby, and many are designed with drop-down sides so your infant's bed can literally sidecar on your bed. Bassinets are also portable, so you can use them in the living room during your child's nap or in the home office when you are emailing baby photos to friends and family.

Bassinets are compact. If you have a limited amount of space in your home, then a bassinet is great baby furniture choice. Bassinets and cradles are smaller and more compact than cribs and other baby beds. You can place a baby bassinet almost anywhere and move it around as needed to make the most of the space. Many bassinets are also compact enough for travel.

Bassinets are safe. When shopping for baby items, safety should be your number one priority. Bassinets offer a variety of safety features. The portability of a bassinet makes it safe because you can keep a close watch on your baby. In addition, bassinets are designed for small babies, and many cradles have special padded sides and other infant-specific features. When looking for a safe baby bassinet, choose one made of sturdy materials with a low center of balance and a firm mattress.

Bassinets are affordable. Having a baby is very expensive, and many parents choose not to purchase every single piece of baby furniture and baby gear right away. Choosing a bassinet for your infant allows you to either delay purchasing a crib or avoid buying one all together. Compare the weight and age limits of the bassinets you are considering to be sure that you will get the most out of the investment.

Bassinets are available in fun and interesting styles. Many parents like bassinets for their whimsy. An old-fashioned bassinet in the corner of your bedroom is sweet and aesthetically pleasing. A tiny little basket cradle is reminiscent of primitive baby beds. A handcrafted wooden rocking cradle is an adorable baby furniture investment. Consider bassinets for their unique style choices.

Buy Bassinets and Cradles
Back to Guides Directory