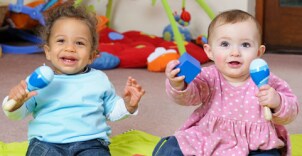 When you're baby-proofing your home, you may want to consider baby playards to keep your baby safe while he plays. Maybe you need to hurry into the kitchen and take something out of the oven. Maybe you have multiple children and you have to put down the baby to feed or change the toddler. If you have a playard, you can leave the room for those few minutes and rest assured that your baby will be safe and entertained while you are in the other room. If you're thinking of purchasing a playard, consider the following benefits to help you make your decision.
Benefits of Playards:

Safe play: As much as you would love to give your baby constant attention, it's nearly impossible to do so. You do want to make sure your baby is safe while you work around the house. When you put your baby in a play pen, you know he'll be safely at play, even if you have to leave the room for a minute or two. Baby play yards are soft, comfortable and safe for your baby, so you don't have to worry.

Early learning: Most playards come equipped with fun, educational toys and features for your baby. The earlier your baby begins to play and learn, the better. Even if you purchase a basic playard without added toys and features, playing in a playard can still be educational for your baby. You can give him plenty of toys to play with, and the simple act of playing by himself can help him develop motor skills and association skills more quickly.

Staying close: A play yard can help you keep your baby within sight and earshot while you're doing the laundry, cooking or paying the bills. He'll be happily playing, and you can be close enough to see or hear when he needs you. Having babies within sight greatly reduces the risk and occurrences of accidents, injuries and even SIDs. With your baby in a play pen close by, you'll be able to reach him before any injury or accident becomes serious.

Portability: Playards are lightweight and usually fold up for easy portability. This makes it easier for you to keep your baby close at all times. Playards even make traveling easier. Fold it up and stow it away on road trips or flights. It'll be easy to pull right back out and set up when you need it.

Double-time: While your baby's crib is the safest place for him to sleep, when you're traveling, visiting relatives or just want to keep your little one close while he naps, playards are great substitutes for a crib when you need one. Playard pads are thin and firm to avoid suffocation risks, and will be adequate for your baby to sleep on occasionally. Many parents choose to buy an additional playard mattress. These mattresses should also be firm, and you should never attempt to pad a playard with loose or soft blankets or pads.

Buy Playards
Back to Guides Directory