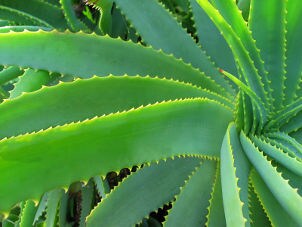 The aloe vera plant is a short, succulent that grows in hot, dry regions. It has long been prized for its extract, which has a variety of medicinal purposes and can offer many health and beauty benefits. Aloe vera can be found in a variety of health and beauty products today, and some of these benefits may be right for you.
Aloe Vera Benefits:

Aloe vera acts as an anti-inflammatory. It is often used as a topical treatment to soothe and heal damaged skin, most often on burns, blisters, razor burn, insect bites, rashes, and sunburns. It also helps to soothe acne. You can use aloe vera directly from the plant on your inflamed skin, or you can look for aloe vera skin care products in gel and cream forms. Store the products in the refrigerator, so they are extra soothing on your irritated skin.

Aloe vera contains flavonoids, which are known to be antioxidants. Antioxidants help to rid the body of free radicals, which can damage healthy skin cells. Aloe vera has been shown to reduce the signs of aging, so it is a very popular ingredient in anti-aging products. If you shop for food-grade aloe vera gel, you can add it to smoothies or juices.

Aloe vera promotes the restoration of skin. Fibroblasts, the skin cells responsible for manufacturing collagen, can be stimulated by aloe vera. Collagen is a protein that is important to the structure and elasticity of the skin. Anti-aging products containing aloe vera can help to reduce wrinkles and the signs of aging. Look for moisturizers and eye creams with aloe vera.

Aloe vera has antibacterial properties. Whether you add it to drinks or you use it on your skin, aloe vera can help fight off bacterial infections. Used topically, it can help cuts and scrapes to heal. When ingested, it can help prevent illness and detoxify your digestive tract.

Aloe vera may be able to help hair grow. Some users of aloe vera have found that their hair grows faster and longer when they apply aloe vera to their scalps; try this by using it straight from the plant, apply it to your scalp, and rinse after an hour. Many hair products contain aloe vera to help support healthy hair growth. Drinking aloe vera may also help your hair to be healthy.

The content on this site is not intended to substitute for the advice of a qualified physician, pharmacist, or other licensed healthcare professional. The products may have additional information and instructions on or inside the packaging that you should carefully read and follow. Contact your healthcare provider immediately if you suspect that you have a medical problem. The use of dietary supplements may not have been evaluated by the Food and Drug Administration and is not intended to diagnose, treat, cure, or prevent any disease or health condition.
What Do You Want to Do Next?

Shop for Skin Care
Shop for Bath & Shower Products
See All Beauty Products
See All Guides
Read More Health & Beauty Guides
Learn More about Personal Care & Beauty