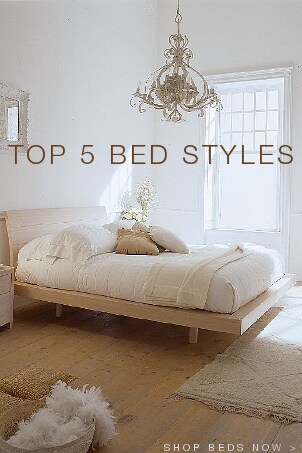 Your bed should be the most comfortable piece of furniture you own. And while the mattress set provides most of the physical comfort, mental comfort is just as important when it comes to getting a good night's sleep in your bed. With the bed being the focal point of the bedroom, it is the piece of bedroom furniture that has the most effect on your mood. Different styles of beds work for different people and different bedrooms. Fortunately, there are several styles, from the simple elegance of a sleigh bed to the functional practicality of a storage bed, that can make your evenings a more restful time.
Best Bed Styles:

Platform beds: Platform beds are simple and sleek. The straight, simple lines of platform beds work well with contemporary and modern decor. They don't take up very much space beyond the mattress, so they can be a good option when you want to save space for dressers and an armoire. They're also an excellent bed frame for a memory foam mattress.

Storage beds: Storage beds are the perfect space-saving solution for smaller bedrooms, and they actually look good in any size space. They are similar to platform beds but usually have drawers for storage underneath. Other storage beds will have shelving in the headboard to eliminate the need for nightstands.

Sleigh beds: The gentle curves of a sleigh bed can't help but to add elegance to any bedroom, but their style is still simple enough to not be overpowering in an average to small-size bedroom. This is a traditional style that works well in a dark wood tone.

Canopy beds: The height of canopy beds makes them best for large bedrooms with high ceilings. The cloth that drapes over the top of the canopy bed provides a cozy, romantic feeling within the larger room. The posters and frame of a canopy bed can either be intricately carved for traditional look or have straight, clean lines for a contemporary look.

Bunk beds: They may not be for mom and dad, but bunk beds are extremely popular for kids. Bunk beds save a lot of space, and most kids just find them fun. Even if you only have one kid, you can get a bunk bed that has a futon underneath or simply a loft-style bed with a desk underneath.

Shop Beds
Shop Bedroom Sets
Shop All Bedroom Furniture
See All Guides
Read More Furniture Guides
Learn More about Bedroom Furniture