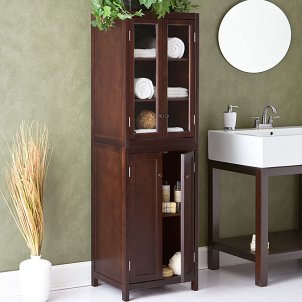 Bathrooms present unique challenges when it comes to finding functional yet decorative storage solutions. Bathroom cabinets, size and budget are obvious considerations when planning your bathroom storage ideas. Whether you need to organize toiletries or towels or you prefer bamboo or bronze, bathroom storage solutions are abundant if you know where to start. This article details the top 5 bathroom cabinet and storage solutions.
The Top 5 Bathroom Cabinet and Storage Solutions:

Hampers: Hampers aren't just for dirty laundry anymore. Available in a variety of sizes and styles, large hampers can be used to contain stacks of clean towels, while smaller ones can hold hand towels or washcloths. Tuck away bed linens and blankets or toilet paper in hampers. Consider a matched set or buy several different styles to add interest to a bathroom.

Storage bins: Handy canvas, plastic, metal or even bamboo bins are useful for helping control smaller items. These can be used on the counter, under the sink or in a bathroom cabinet. Perfect for grouping toiletries, first-aid supplies or hair-care products, bins make storing, locating and accessing your supplies a snap. Some even come with lids, making them stackable and even better space-savers.

Furniture: Free-standing bathroom cabinets come in a variety of sizes for every size bathroom. Some are tall and thin, fitting into corners. Others are as wide as china cabinets and reside along wall space. Some resemble the cabinets often found under sinks, but they make use of additional surface space, nestling into available spaces and nooks. Cabinets can hold linens, cleaning supplies and toiletries. Towel safes are cabinets designed specifically for holding bath linens. Bathroom cabinets are versatile and available not only in a variety of sizes, but also in a variety of textures and budget considerations. Medicine cabinets also come in a wide range of sizes and are ideal for controlling clutter.

Over the toilet: Wall-mounted cabinets are a natural choice to be placed over a toilet. Available in bamboo, wood, metal and plastic, these cabinets are the perfect addition to your bathroom for extra storage. Units that straddle toilet tanks can have small cabinets as well as shelves for bathroom necessities.

Vanities: A vanity can be a decorative addition to a bathroom and a functional one as well. Vanities provide the unique spaces needed to store items such as blow dryers, curling irons, makeup and skin-care products. Some come with mirrors and cabinets or drawers for organizing brushes, combs and other essentials.

Buy Bathroom Cabinets
Back to Guides Directory