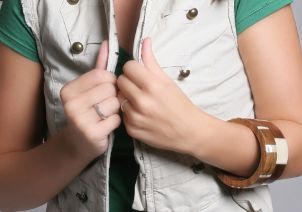 If you are looking for a fun piece of jewelry that you can throw on with a pair of jeans in a hurry or carefully layer with other accessories for a special date, try a bangle or two. Bangle bracelets are simple and seamless. A bangle bracelet will either slip over your hand or have a hidden hinged opening. This minimalistic style leaves room for versatility, allowing bangle bracelets to be large and loud or small and subtle. Bangles are available in a seemingly endless variety of styles. Choose from diamond bracelets, gold bangles and beaded pieces. Silver bracelets with gemstones are luxurious, while gold bracelets that climb up your arm in spirals are edgy and sexy. Bangle bracelets are perfect for everyone because they can be worn anytime, anywhere and with anything. Find inspiration in our list of the top 5 bangle bracelets.
The Top 5 Bangle Bracelets:

Bangle watch: A bangle watch is both practical and stylish, giving the wearer the advantage of telling time with jewelry. Bangle watches can be worn all on their own or with other pieces for a dramatic, textured style. Choose a gold or silver bangle watch for a touch of luxury.

Stackable bangles: Stackable bangles are multiple slim pieces that you can wear together on one wrist. Many women love stackable bangles because they allow for personalization. You can wear several gold and silver bracelets on one arm with a leather cuff or you can choose just a diamond bracelet and a gold bangle. Stackable bangles can also be worn on their own for a very simple touch of shine and luster. Try a thin silver bangle with a sundress or a tiny gold bracelet with skinny jeans and a tank top.

Wood bangles: Wood bangles are earthy and stylish at the same time. Thick wood bangles add a chunky, bohemian look to a long skirt or a pair of trousers. A thin wood bangle can be a demure stand-alone accessory or can be stacked with gold bracelets for a look that is entirely Amazonian princess. Some wood bangles have decorative carvings or paint. Try wearing a wood bangle bracelet with a simple dress or pair of safari pants.

Gemstone bangles: Gemstone bangles are luxurious and mystical. Many gemstone bangle styles are available, from bangles with a single large gem to bracelets that are completely encircled by gemstone cabochons. If your gemstone bangle is large and covered in beautiful gems, consider wearing it on its own to let it stand out without distractions.

Filigree bangles: Filigree bangles feature intricate ornamentation and metalwork. Jewelers and designers use different techniques to create unique filigree effects. Choose from delicate filigree bangles and ornate bracelets. Vintage filigree bangles complete a feminine workday outfit, while gold filigree bracelets bring romance to anything in your wardrobe.

Buy Bangle Bracelets
Back to Guides Directory