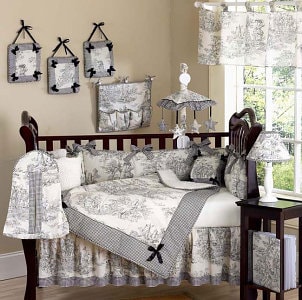 Finding the right decor for your baby girl's nursery is a lot of fun. Anything is possible with so many options to choose from. One way to simplify your decision and get a designer boutique look is to start with the baby bedding. Baby bedding often comes in matching sets with a theme already in place. You can choose baby bedding with a popular theme or you can go with something creative and unique for your nursery decor. Important things to remember when choosing nursery decor are to relax, have fun and enjoy the process.
The Top 5 Nursery Ideas:

Fairy tale fantasy. Fairy tale characters and fantastical creatures create a fantasy nursery decor that your little princess will adore. Start with an enchanting bedding set. Look for delicate pink or green crib bedding decorated with fairies and magical creatures. Hang a fairy mobile over the crib and add a matching window valance and lamp.

Secret garden. Create a secret garden for your little one with brightly colored daisies, poppies, ladybugs, dragonflies or butterflies. Use butterfly borders, flowered bedding and even a butterfly mobile. Don't forget to add some sunshine, too. A painted picture of the sun or portrait of a smiling sun adds sunshine to the room.

Night sky. Light up the night in your baby's room with glow-in-the-dark stars and the moon watching nearby. Find bedding that is decorated in stars. Add some star wall hangings and a mobile with little planets. Hang glow-in-the-dark stars on the ceiling for a nighttime sky. Find a star- or moon-shaped nightlight for an added accessory.

Urban chic. Not every little girl is all pink frills and bows. Maybe your little girl would prefer something a little more sophisticated. There are many nontraditional options for the design of your baby girl's nursery. Take pink in a trendy new direction when you pair it with chocolate brown or even black. Or go even more nontraditional with animal prints, elegant black and white motifs or minimalist Asian-inspired themes.

A personal touch. Personalize your baby's nursery decor with her name. Spell out her name on the wall with hanging letters or stencils. Personalize blankets, pillows and even stuffed animals with her name. Frame a name certificate defining the meaning of her name or perhaps popular events that happened on her birthday.

Buy Baby Bedding
Back to Guides Directory