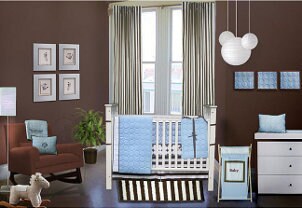 The furniture in your home reflects who you are, and so should the baby furniture in your nursery. Chic, hip and current, your baby's nursery is a venue for showing off your style -- and your baby's. With celebrity babies becoming the hot topic in fashion magazines, your tyke deserves to be a trendsetter too, and the nursery is the best place to start. Get hip to the latest trends in baby furniture and give your little one a pad to compete with.
Baby Furniture Trends:

Vintage: Whether you're reviving an antique piece of baby furniture or are looking for something new with that worn look, vintage baby furniture can make a nursery something special. Baby furniture with cracked-style paint and muted tones sets the stage for a vintage affair. Iron cribs are becoming increasingly popular with the vintage revival and add a beautiful touch to any nursery.

Bold and bright: Bright colors in high contrast help babies' eyesight develop, especially in the early months. Choosing baby furniture in bold shapes and bright hues surrounds the baby with plenty of shapes and colors. The clean lines of contemporary baby furniture lend themselves well to the bright palette of your nursery.

Wicker: Wicker isn't just for the patio. It's becoming a popular choice to add a soft touch to interiors, including the baby nursery. Either natural or whitewashed, wicker can be completely charming in a nursery. Nearly every piece of your baby furniture can be made of wicker, from the crib to the changing table, the hamper and the rocking chair. Wicker mixes and matches with other baby furniture easily, too, if you're looking to update just some of your baby furniture rather than a complete set.

Refined: Rich woods and smooth lines define classically refined baby furniture. You may choose furniture set in rich, warm mahogany and cherry or a deep espresso to give your nursery a look steeped in traditional style. A lighter, honey-colored or birch wood can lighten up the nursery while still retaining a refined air.

Shabby chic: A little bit vintage, a little bit modern, a little bit everything: Shabby chic baby furniture takes the best of every style and makes it into something new. The home-crafting movement has had a big influence on shabby chic design, and parents are transforming baby furniture at home using decoupage, chalkboard paints, fabric swatches, ribbons and buttons to make something new out of the old. Try decoupaging the top of a baby table with printed paper, adding a canopy to the crib or painting the sides of the dresser with chalkboard paint to give your baby furniture a shabby chic touch.

Buy Baby Furniture
Back to Guides Directory