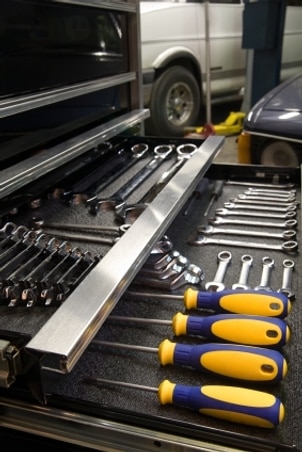 Your car gets you where you want to go. So, why not make sure you get there in style, with the tools and automotive accessories that can help protect your car and make driving easier. You can find plenty of garage and automotive accessories that help preserve the inside and outside of your car, as well as tools that make transporting goods with your car safer and easier. Here are the top five automotive accessories that can help you outfit your vehicle.
Best Automotive Accessories:

Seat covers and floor mats: Your vehicle's interior sees a lot of wear and tear, especially the floor and the seats. Keep them looking nice with car interior accessories, like seat covers and floor mats. Durable automotive accessories, like rubber floor mats can help keep dirt, oil and water from staining your carpet. And car-seat covers can add a flash of color and style while protecting the upholstery underneath.

Auto-detailing accessories: Of all the auto accessories to have in your garage, a proper auto-detailing kit can be the most useful. By keeping your vehicle exterior clean and protected with automotive accessories, like wax and tire-cleaner, you can preserve the life of your auto parts and keep your car looking like new.

Portable battery chargers: A dead battery usually catches you off-guard. Be prepared with battery chargers, jumper cables and similar automotive accessories. Even with a battery that's going bad, these automotive accessories can get you moving until you can get it replaced.

Seat warmers: Why not be comfortable while you drive? On cold winter mornings, a warm car seat can make getting on the road that much easier. Electrical automotive accessories, like seat warmers, usually plug straight into your car's cigarette lighter and warm up quickly.

Tie-downs: The safest way to move things with your truck is to use automotive accessories, such as tie-downs, to keep the load steady and secure. Usually made of strong nylon, these auto accessories feature hooked ends with a ratcheting clasp that holds the load down until you release the catch. Auto accessories like this are nearly invaluable to large vehicle owners.

Buy Garage and Automotive
Back to Guides Directory