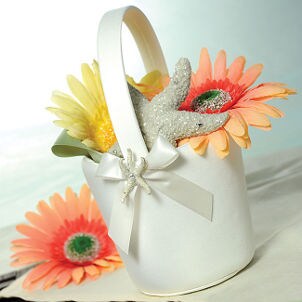 It is a long-standing tradition to include a bridal bouquet and bridesmaid bouquets in a wedding. That being said, there are various reasons for seeking alternatives to a traditional wedding bouquet. For example, if you or the groom has an allergy to fresh flowers or if you just really want to stand out, you may look for other ideas in place of a wedding bouquet. Additionally, you may want to carry an item that has significant meaning down the aisle on the big day. Whatever your reasons, you can find the top 5 alternatives to a bridal bouquet here.
Unique Wedding Bouquet Ideas:

Flower power: For a bride who does not want to carry a large flower bouquet, a single bloom may be a perfect alternative. A single-stem rose or gerbera daisy accents a white dress and adds a simple touch of romance to the ceremony, still keeping with the tradition of wedding flowers. This is also a good alternative for a bride trying to cut expenses, as a whole bouquet can get quite pricey. Bridesmaids can also carry single flowers in place of bridesmaid bouquets or even hold silk flowers instead of fresh flowers.

A tisket, a tasket: Some brides are opting to carry baskets down the aisle because it gives them a little more freedom to change up a bouquet or fresh wedding flowers. Although flowers can be carried in the basket and make a beautiful display, the bride can also carry items for the theme of her wedding or items relating to the season. An example of this would be a mix of pine cones, holly and berries in a simple wicker basket for a winter wedding.

Keep it simple with symbols: To symbolize purity, the bride can opt to carry a rosary or a Bible in a church. Often, these items are passed down in families from generation to generation, and the bride may feel it is very fitting to carry a symbolic family heirloom with her down the aisle on her wedding day instead of wedding flowers. Another option is for the bride to select a jeweled rosary or to fit a Bible with a lace cover instead of carrying fresh wedding flowers.

Your biggest fan: For a summer wedding, a bride can look elegant carrying an antique fan down the aisle. A cream-colored fan looks vintage and timeless, and you can dress up the look a bit by carrying silk flowers with the fan in place of a traditional flower bouquet.

Love you 'fur-ever.' In the winter, it is appropriate for the bride and her bridesmaids to wear winter muffs down the aisle in place of carrying a bouquet. This will not only keep hands warm, but it will also add a stylish, old-fashioned touch. Winter muffs can be found in faux fur and can be decorated with velvet or ribbon for an even more stylish look.

Buy Fresh Flowers
Back to Guides Directory