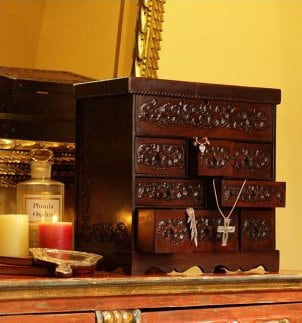 When shopping for jewelry boxes, you will come across a wide variety of beautiful and functional boxes, making it difficult to limit your purchases. You are likely to acquire a collection of lovely decorative boxes while traveling, and jewelry cases are frequently given as gifts. You can proudly display jewelry boxes and jewelry chests throughout your home. Jewelry cabinets are made for baubles, but they are just the right size for storing a variety of other items throughout the house. To make the most of your collection of decorative boxes, start with these alternative uses for jewelry boxes.
More Uses for Jewelry Boxes:

Store perfume: Most women and many men will wind up with a vast assortment of small bottles of perfume at some point in their lives. Perfume samples are everywhere, and petite fragrance bottles make the most wonderful gifts. You can keep your perfume organized in one of your favorite jewelry cases. Keep a jewelry cabinet full of perfume in your bathroom or store perfume in a decorative box on your dresser. You'll find it that much easier to get ready for each special date or gala.

Manage stationary: Every home has a collection of pens, an assortment of paper and a pile of envelopes. Keep stationary organized in a small jewelry chest. Jewelry boxes give you something pretty to keep on your coffee table and help you keep track of each stray sticky note.

Stow recipes: Recipe boxes are fine for a collection of uniform recipes, but most people gather recipes from different cooks. Grandmother's recipes are handwritten on small cards, while recipes from your best friend are printed on full sheets of paper. A jewelry box can help you keep your collection of recipes contained on your kitchen counter, making it easier to prepare your favorite dishes in a hurry.

Organize your bathroom counter: A bathroom counter strewn with hair ties, bobby pins and makeup doesn't make for an efficient morning routine. One lovely jewelry box can solve the problem by giving you a place to hide each little beauty accessory. Handy countertop storage also keeps everything you need at your fingertips.

Wrangle electronic accessories: The modern home has a cell phone charger on every end table. Keep your house tidy by storing chargers, cables and cases in a fashionable jewelry box. With each accessory neatly kept in a decorative box, charging your electronics is stress-free.

Buy Jewelry Boxes
Back to Guides Directory