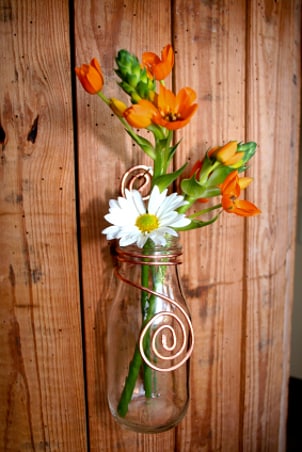 A pantry filled with canned goods can give you the taste of summer all year long. Although canning jars are very functional, they have also become quite fashionable. Even if you don't have the time or space for canning, canning jars can add a nice touch of rustic design to your home. Choose one of these top 5 ways to use jars.
Canning Jar Uses:

A lemonade party: Sipping lemonade or mojitos from canning jars adds a novel element to any party. Decorate your punch drinks with fresh fruit and candy sticks and serve them up on a vintage wooden tray. A sprig of mint or ice cubes in bright rainbow hues will show through the glass, putting a smile on every face. Serve creatively decorated sugar cookies, old-fashioned candy and pastel popcorn balls with jars of lemonade for a summer party that no one will ever forget.

A rustic vase: Fresh flowers, vines and leaves look right at home in canning jars. When summer blooms begin to overwhelm your flower beds, bring some of the colorful flowers into your home and fill your windowsills with canning jars in a range of sizes. Clusters of orange autumn leaves in simple canning jars will enhance your dining room and bathroom this October.

Desserts on display: If you need a fun party treat or birthday gift, consider offering up desserts in canning jars. Cakes and pies can be layered in jars and eaten straight from the glass container. Some recipes allow you bake the cake directly in the jar while others give you the option of layering round hunks of baked cake with luscious frosting. Attach a spoon and place jars in a gift basket for a delightful holiday surprise.

A bathroom accessory: If you're looking for a unique way to add country style to your bathroom, consider using canning jars as vanity accessories. Store cotton balls, bobby pins and cotton swabs in jars or purchase a screw-on plastic pump lid from a craft store and turn a jar into a soap or lotion dispenser.

Summer garden lights: No garden party is complete without rustic lighting. Canning jars easily transform into little outdoor lamps when stuffed with twinkle lights. Place your innovative lighting on a long, worn wooden table and serve tapas under the stars alongside sangria and cold beer.

Buy Jars
Back to Guides Directory