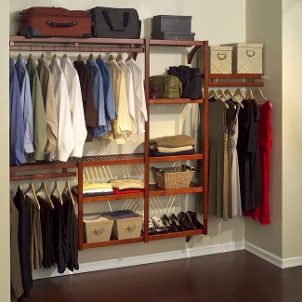 If you're constantly worried about closet avalanches, a closet system is the solution. Quell the chaos with closet storage solutions that neatly give everything a home and make finding what you need a lot easier. You can find the perfect closet storage system for your bedroom clothes closet, the hallway linen closet, and the entryway catch-all closet simply by changing the arrangement of shelves and racks.
Closet System Advantages:

Organization: The point of a closet system is to organize items that need to be stored, so you can easily find them when you need them. Every closet could use some sort of organizing, even if it's simple closet shelving to hold board games or baskets of sewing supplies. Kids' closets may need special organizers for clean clothes, dirty clothes, bedding, toys, and games. For your bedroom closets, look for closet systems with clothing racks and hangers for suit pants and dresses or special shoe racks to take advantage of the space.

Affordability: Plastic closet organization systems are the cheapest, allowing you to make your own custom closet with a variety of inexpensive shelves, racks, and drawers. Wire closet systems cost a bit more than plastic systems, but they are more durable. Wooden closet systems are ideal both in looks and durability, but all-wood organizers can be pricey; look for wood-composite closet systems that offer the look of wood for a more affordable price. You can also purchase components of a closet system, such as a stand-alone storage tower or shoe cabinet, over time as your budget allows.

Durability: Closet systems are made to handle the wear and tear of daily use. Some kinds of wire closet shelving are built to withstand up to 175 pounds of weight, and quality wood closet systems are just as strong. With closet organizing systems in your closets, you don't have to worry about losing things in a pile of junk at the bottom of your closet.

Easy installation: Plastic and wire closet systems are generally very easy to install and arrange. Easy installation is a key advantage for those living in dorms and apartments or who move frequently. These closet systems go up without too many holes in the wall, are adjustable and customizable, and can fit in most closets, so you can take them with you wherever you go.

Custom options: You can design your own custom closet with the right closet organization systems. Look for organizers with several clothing racks, customizable shelves and drawers, and shoe racks with plenty of space for your shoes. Then get to work designing the most efficient closet storage for your space.

Buy Closet Storage
Back to Guides Directory