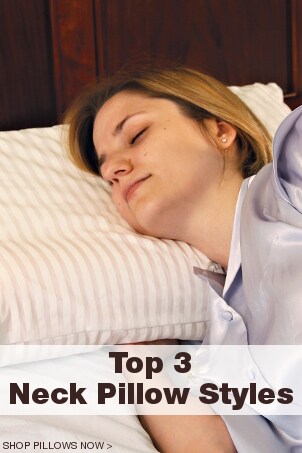 Whether you use it for upright or horizontal sleeping, a special neck pillow makes catching a quick nap easier. Neck pillows were created to support the spine while you're sleeping and are helpful for people with frequent back or neck pain. You've most likely seen the typical U-shaped travel pillows pulled out on long flights or car trips, but actually several options are available when it comes to purchasing one of these multifunctional pillows. Here are the three most popular types of neck support pillows.
Best Neck Pillows:

For traveling: The last thing you want to worry about when packing for a flight or a car trip is where to put an extra pillow. Seasoned air travelers know that the best bet for catching some shut-eye on a long flight is a small inflatable neck pillow. These curved pillows can be blown up easily and stored away flat at a moment's notice. Whether you take them on a long ride or shorter trips, inflatable neck pillows are always an easy portable option. Avoid waking up with a sore neck the next time you travel with inflatable neck pillows.

For aching muscles: At the end of a long day, a heated neck pillow can deliver therapeutic relief to your neck and shoulder muscles. For instant relief, try an electric heated neck pillow, or for a more natural heat sensation that is safe for sleeping, indulge in a buckwheat hull pillow that is flexible enough to be used as a neck pillow or a standard pillow. You could also try replacing your bed pillow with a contour pillow, which will help support your neck and spine.

For multipurpose use: For a neck support pillow that does two jobs in one, try a neck-roll pillow. These cylindrical pillows support your neck whether you're sitting up or lying down and can also be used as lumbar support when sitting in an office chair. If your job requires you to sit for long periods of time, neck-roll pillows are your number one option. Often made from memory foam or buckwheat, these are easy to tote around or store in your desk at the office.

Shop Travel Pillows
Shop Contour Pillows
Shop All Pillows
See All Guides
Read More Bedding Guides
Learn More about Pillows