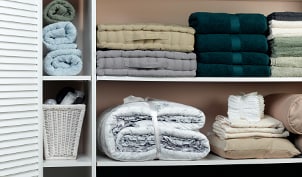 Many homes lack adequate storage space. And without places to put everything you own, many items either get left out in the open or buried deep within a closet where you can't find them when you need them. Fortunately, there are many pieces of furniture that provide you with storage solutions without compromising style.
Adding Stylish Storage:

Storage ottomans: Storage ottomans give you a place to keep magazines, books or DVDs without having them on display. Or, you could keep a blanket and throw pillow inside for curling up on your sofa.

Decorative storage chests: Storage chests are perhaps the most versatile storage solution. They can go in any room and hold either large, bulky items or lots of small items that don't have a place.

Storage beds: By providing drawers under your bed, this furniture gives you a perfect place to keep extra bedding and out-of-season clothing.

China hutch: Adding a china hutch or buffet to your dining room is a great way to alleviate crowding in a small kitchen. By moving extra dishes and pans out of your kitchen, you've freed up space for the things you use frequently.

Armoire: Giving you a place to store clothes, bedding or even a television, armoires add elegance and storage to your bedroom.

Coffee tables: Adding a coffee table with drawers to a room gives you a good place to store magazines, remote controls and instruction manuals for your electronics and other items. A trunk-style coffee table lets you store blankets for use on colder nights.

Filing cabinets: File cabinets go well beyond old, steel file cabinets. Wood finishes and modern designs have made filing cabinets much more stylish, while still giving you a place to organize and store your important documents.

Medicine cabinet: Medicine cabinets don't have to go directly over the sink. If you already have a mirror you like, hang a medicine cabinet on an adjacent wall. It will allow you to organize your smaller items so you don't have to dig through drawers to find them.

Vanities: Replacing an existing pedestal sink or small vanity with a larger vanity allows you to store more miscellaneous items, like toilet paper, paper towels and cleaning supplies and gives you room for all your bathroom essentials.

Cabinets: Free-standing cabinets work well in bathrooms, bedrooms and offices. They also make underused closet space functional. By working vertically, closet cabinets take advantage of the empty space below your hanging clothes, and they allow you access that you wouldn't get from boxes or storage bins.

Buy Furniture
Back to Guides Directory