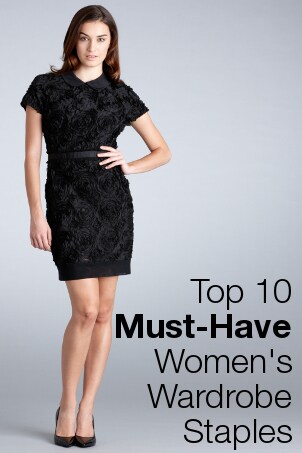 SHOP WOMEN'S CLOTHING NOW >>
Having a well-stocked closet is every woman's dream. This doesn't have to mean a closet brimming with clothes, however. With a few basic wardrobe staples you can mix and match, it's easy to look put-together every day. Here is a list of the few clothing basics every woman should own.
Must-Have Women's Clothing:

Flattering jeans: Every woman needs a good pair of jeans in her closet. Not every pair of jeans, however, is right for every woman. Find out which cuts of jeans work best with your body type and use this guide on how to buy women's jeans.

Little black dress: This classic staple is your go-to look for dressy occasions and a must-have for your closet. Choose from short and sassy cocktail dresses and flirty party dresses. Just keep in mind that a little black dress should be equal parts classy and sexy.

Boyfriend cardigan: Comfortable and easy, a boyfriend cardigan can be thrown over just about everything in your closet, from a T-shirt to a casual dress. The longer length is extra flattering and versatile, and you can wear the cardigan to the office or out to lunch with friends.

Basic tee: When you're shopping for a basic T-shirt, go for solids and neutrals you can layer under just about anything in your closet without clashing. There's plenty of room for fun graphic tees in your closet as well, but a basic T-shirt will give you versatility when you need it.

Fitted blazer: A fitted blazer can dress up any outfit, even a basic jeans-and-tee look. Choose a blazer in black that hits at or just below the hips for a look that is both slimming and goes with everything in your closet. Grab your blazer before you head out the door and you'll be prepared for just about any fashion situation.

Button-down shirt: A basic button-down looks good with everything. Try it with jeans, skirts, and dress pants; it goes with all of them. A basic white blouse is the most versatile and can be worn with either casual or more dressy outfits, but a few tops in some bright, solid colors can really enliven your look.

Pencil skirt: A knee-length black pencil skirt is one of the most flattering pieces of clothing you can own. Pencil skirts, though tight-fitting, look good on every body type and are an easy way to dress up your look.

Black pants: Black goes with everything, and black pants are universally slimming. A pair of black pants can be dressed up or down, depending on what you pair with them, but they'll always look good. For the most slimming effect, choose flat-front pants.

Trench coat: From springtime rain showers to brisk autumn weather, a trench coat has you covered in all but the coldest of weather. A classic trench won't just keep you dry; it will also give you a streamlined, fashionable look when the weather calls for outerwear.

Day dress: The LBD's daytime counterpart, a good day dress should be casual but still structured enough to look clean and crisp. Look for something you can wear every day, like a clean shift dress or a curve-flattering wrap dress. Feel free to play with colors and prints to help you stand out.

Shop Women's Outerwear
Shop Dresses
Shop All Women's Clothing
See All Guides
Read More Clothing & Shoe Guides
Learn More about Women's Clothing
Published October 10, 2011
Updated November 10, 2014