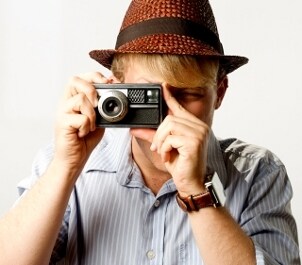 A great watch is not hard to find when you shop Hamilton watches. Hamilton has been around for over 100 years, and men's watches and women's watches from Hamilton combine precision and luxury styling into an affordable wristwatch. You have many Hamilton watches to choose from, and each Hamilton wristwatch offers something different. Shop Hamilton wristwatches based on your fashion preferences, lifestyle and personal interests. Consider these top ten models when shopping for men's watches and women's watches from Hamilton.
Favorite Hamilton Watches:

The Ventura: Ventura watches from Hamilton are quite famous. The funky wristwatch was first worn by Elvis Presley in the movie "Blue Hawaii." The Ventura features a triangular dial and various geometric diamond embellishments. The Ventura watch has a leather strap and a stainless steel case.

The Gramercy: The Gramercy is available in both men's and women's watches and brings a touch of vintage glamour to your wardrobe in a sleek package. The Gramercy features a stainless steel square case and either a stainless steel bracelet or leather strap.

The Khaki Navy Frogman: This Hamilton watch is named for the movie "Frogman," in which it appeared in 1951. The watch lives up to its name with a tough rubber or durable leather watchband, water resistance to 100 meters and a screw-down crown guard.

The Aquariva: The Hamilton Aquariva watch is also water-resistant to 100 meters and has a see-through screw-in caseback. The Aquariva also has three subdials, a date window and decorative vertical lines on the face that match the bezel and case.

The Linwood: The Linwood is a classic watch with an easy-to-read dial and a round case. Choose from women's Linwood watches with black dials and matching leather watchbands or gold-tone stainless steel cases and bracelets.

The Everest: The Everest Hamilton watch is truly an original. With a dial and case that look like a miniature old-fashioned television, the Everest will capture the interest of anyone who loves vintage styles. Select an Everest watch with rubber or stainless steel watchbands.

The Jazz Master: The Hamilton Jazz Master watch is sleek and urban with a decorated dial and a minimalistic design. The Jazz Master has authentic leather watch straps, a stainless steel case and is water-resistant to 50 meters. Jazz Master watches with rose gold-tone cases and brown leather watchbands are also available.

The Ardmore: The Hamilton Ardmore women's wristwatch is pretty and luminescent. With a sparkling turquoise leather watchband and a textured guilloche dial, the Hamilton Ardmore is delicate and functional.

The Lorna: The Lorna watch from Hamilton is a true classic with a square dial and case and petite hands. Choose from Lorna watches with satin straps, stainless steel bracelets and black leather watchbands.

The Stardom: The Hamilton Stardom watch is truly an original with a diamond-shaped case, a black dial and a gleaming stainless steel bracelet. The Stardom watch offers classic materials in a unique and modern package.

Buy Hamilton Watches
Back to Guides Directory