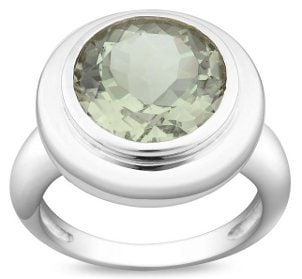 Rings are arguably the most fashionable pieces of jewelry at the moment. They say a lot about you and they are easy to wear with both casual and dressy outfits. Fashion rings are great for jewelry lovers of all ages, but teenagers are really embracing the trend and collecting unique and fabulous rings in a variety of styles. Looking to join the crowd? Start with one of these top 10 fashion rings.
Best Fashion Rings for Teens:

Dome: Domed rings pop on your finger, adding a lot of funky style to an outfit. Domes also have a vintage vibe, borrowing their bold look from 1950s and 1960s cocktail rings.

CZ cocktail: Speaking of cocktails, these rings offer a delightful style option for any wardrobe. Cubic zirconias are bright and beautiful, but they are also affordable for a teen budget. You can afford a ring with a big gem when you shop CZ jewelry.

Stackable: Stackable rings allow you to mix and match styles for a different look every time. Consider stackable ring sets featuring yellow, rose and white gold bands.

Vintage: Vintage-style rings bring retro designs back to life in new and interesting ways. Bands with scrolling ornamentation and rings with unusual settings go with your eclectic wardrobe.

Stretch: Stretch rings are popular because they fit everyone. You don't have to choose a size or wear the ring on the same finger every single time. Many stretch fashion rings have beaded elastic bands that look just like solid metal pieces.

Stainless steel band: Add minimal design to your look with a sleek stainless steel fashion ring. Industrial metals are popular, but tungsten and titanium rings can be expensive. Stainless steel rings offer the same look and level of durability for less.

Animal: Wearing jewelry crafted as animals is trendy. Owl, pig and snake rings give any outfit a wild and natural vibe. Many animal fashion rings feature gemstone eyes or gold wings for added luxury and sparkle.

Rope: Fashion rings with rope details offer a heavy dose of texture to any outfit. Sterling silver rope bands and stainless steel rings with rope accents are modern and versatile.

Elaborate gold: Gold is back and trendy fashion ring collections are the proof. Gold-plated rings are especially popular because they give you the shine and durability of gold without the high price tag. Look for gold filigree cocktail rings and tribal-inspired rings.

Black: Black jewelry goes with everything. You can choose from black diamond rings, rings with black onyx gemstones and black-plated stainless steel rings.

Buy Fashion Rings
Back to Guides Directory