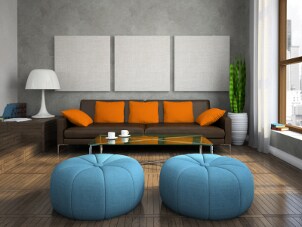 You don't have to be a professional to decorate your home, but, without experience, it can be hard to predict what will work and what won't. While decorating is generally an extension of your own style, following a few rules will make all the things you love look better and feel better. These top ten mistakes and their tried-and-true solutions may help to steer you in the right direction.
Decorating Don'ts:

Don't automatically paint ceilings white. Do choose pastel colors or off-white tones that accentuate the colors of the room. If there are decorative moldings, make them stand out with color.

Don't "chicken out" and settle on a lesser version of the color you love. If you love bright orange, go for it; just use it with restraint and balance it with complementary colors.

Don't frame or mat a work of art with a vibrant or unusual color from the artwork itself. Do choose a neutral color which won't detract from the artwork.

Don't choose paint colors before choosing rugs or fabrics. Do choose the room's most expensive items first and then plan the paint to complement the look. You can get paint in any color you can dream of, but your favorite rug design may only come in one or two colors.

Don't hang the dining room chandelier more than 36 inches to 42 inches above the dining room table. Do choose a chandelier about 9 inches to 12 inches smaller than the diameter of the table. It should also hang about 3 feet above where you sit. This lighting will be softer and more flattering.

Don't hang artwork too high. You don't want people's eyes and necks to be strained. Do place the artwork at eye level. If your wall space is higher than normal, artwork should be larger and may hang higher.

Don't purchase small collectibles for display. Do choose larger decorative accessories that won't be lost in the room. If you already have a collection of tiny items that you love, display them all together in one place to create the appearance of one larger display and to avoid a game of "I Spy" that goes throughout your house.

Don't forget decorative lighting. Do choose to incorporate table lamps, sconces, and accent lights that draw attention to artwork or collectibles.

Don't hang mirrors in dark corners. Do hang a mirror next to a sunny window to bring more light into the room.

Don't purchase any piece of furniture without first measuring the space. Do measure the doors, stairs, hallways, and elevators as well as the intended space to make sure you can get the furniture to the room where you want to use it.
What Do You Want to Do Next?

Shop Decorative Accessories
Shop Lighting
Shop All Home Decor
See All Guides
Read More Home Guides
Learn More about Home Decor