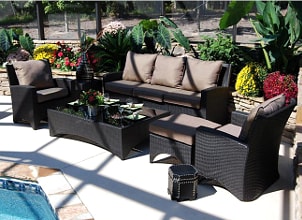 With so much time spent indoors, it's easy to neglect the garden and patio area. Many people don't think about what the space needs until they are using it, and then they might not use it that often because it doesn't have the comforts found in a home. But adding a few garden decor pieces to a patio and yard can make the outside just as comfortable as the inside.
The Top 10:

Fireplaces: Focal points are often absent from outdoor rooms. Fireplaces and chimineas offer a perfect focal point to an outdoor room, especially when you use the room at night. The warmth of an outdoor fireplace also extends the season that you can sit and enjoy your outdoor space into winter.

Fountains: An outdoor fountain can serve as an interesting focal point during the day. The sound of running water is very soothing and is an excellent way to muffle the sounds of traffic and neighbors.

Swings and hammocks: Swaying in the breeze while lying in a hammock is one of the best ways to relax after a long day. You don't need to have two trees to hang one between when you purchase a sturdy stand. A porch swing gives your patio a nostalgic feel and a cozy place to watch the activity in your neighborhood.

Dining sets: Eating outside is a favorite of a lot of people, but holding your plate in your lap can get messy. An outdoor dining set gives your family a place to eat more comfortably. It can also make the space seem more formal, depending on the style of dining set you choose. If you need help choosing one, read our guide on the best patio sets for your home.

Rugs: An outdoor area rug helps define your outdoor space as a room. It also softens the space, offering a nice contrast to the hard materials that make up the floor of most outdoor living areas. Use an outdoor rug anywhere you have a seating area outside.

Lounge chairs: Seating goes a long way toward making your outdoor living room just as comfortable as your indoor living room. Lounge chairs let you relax and soak up the outdoors while reading or listening to some music.

Ceiling fans: These don't work for all outdoor spaces, but if you have a solid roof over your porch or patio, a ceiling fan can help keep you cool in the warmer summer months.

Umbrellas and awnings: The most important reason to have an awning or umbrella shading your patio is for protection from the hot sun, but they also provide privacy and a cozier feel. Some also provide a place to hang lightweight light fixtures, like paper lanterns.

Side tables: Side tables help establish the area, eliminating that haphazard look of just having a few chairs spread around the patio. They also give you a place to set a cool drink when you are relaxing on your patio.

Accent lights: Whether you want to add visibility or a romantic feeling, you'll want to have outdoor lighting in your yard. Read our Outdoor Lighting Buying Guide for more information about choosing the perfect fixtures.

Buy Garden Decor
Back to Guides Directory