Toasters Buying Guide
by Staff Writer
Toasters are some of the most convenient small appliances to have in your home. Toasters are on the must-have appliance list for every kitchen. With so many options and features available in toasters these days, finding the right one for your kitchen and family can be tricky. Fortunately, this toaster buying guide is designed to help you learn how to buy toasters.
Buying a Toaster: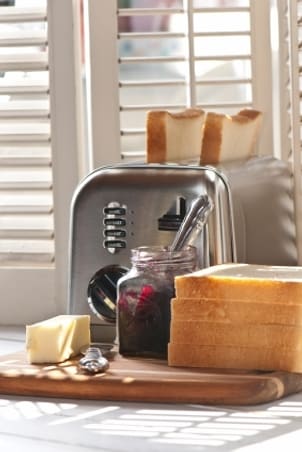 Shop Toasters ▸
Basic toasters:

Smaller families, couples or singles will do great with a basic 2-slice toaster. If you have a large family, a basic 4-slice toaster will be able to perform at a capacity that will suit your needs. Since you won't always be toasting four slices at once, look for a toaster that lets you toast only two slices separately, instead of all four. Whether you choose a 2-slice toaster or a 4-slice toaster, look for one with good browning control options and pop-up feature to make retrieving your bread from the toaster a bit easier.

Bagel toasters and wide-slot toasters:

Bagel toasters and wide-slot toasters are ideal for bagels, English muffins, thick breads or sliced muffins. Bagel toasters have a setting that only toasts one side, which is perfect for bagel lovers. You can find bagel and wide-slot toasters with either two slots or four slots, depending on the size of your family and how much you use the toaster.

Features to look for in toasters:

Other than the number of slices the toaster can hold, there are three main features to consider when you're looking for a toaster: browning control, crumb tray and bread lift. Browning control lets you select how light or dark you want your bread toasted. Crumb trays are removable trays that make kitchen cleanup easier than ever; they should be easy to remove and clean. A bread lift allows you to raise the bread in the toaster even higher than the normal pop-up level, allowing you to more easily remove your toast. This feature is great for shorter slices of breads and English muffins. More advanced toaster may have extra features, such as reheat. Reheating breads in the microwave can leave them soggy and bland, while a reheat feature in a toaster warms them with just the right amount of crispiness.