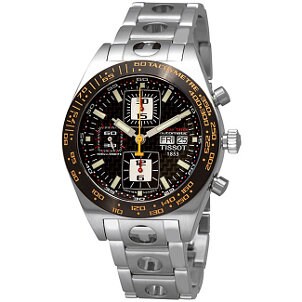 When you own a Tissot watch, you own a timepiece that combines years of tradition with the latest precision technology. Started in 1853, Tissot has a history of making accessible luxury watches in both sport watch and dress watch styles. Innovative by tradition, Tissot watches have been making waves since the beginning. Whether looking to purchase your first Tissot watch or looking for more information about the brand you love, keep reading for Tissot watch quick facts.
All about Tissot Watches:

Tissot created the first pocket watch with two time zones. Cited as the first company to mass produce pocket watches, Tissot took it a step further in 1853 with a pocket watch that allowed people to check two different time zones. Seventy-seven years later, they also introduced a revolutionary anti-magnetic watch that became a best-seller in the Russian Empire.

Tissot is a member of the Swatch group. As one of the leading Swiss watchmakers, Tissot joined the Swatch Watch Group in 1983. As the largest watch producer and distributor in the world, the Swatch Group has brought Tissot watches to over 150 countries.

Tissot is an official timekeeper for several sporting events. Currently, Tissot is a partner with NASCAR and official timekeeper for the world championships in cycling, motorcycling, fencing and ice hockey. Tissot was also a sponsor for the Formula One teams Lotus, Renault and Sauber. Tissot watches channel the brand's passion for sports and uses it as a key design aesthetic in many of their luxury watches.

Many stars have worn Tissot watches. What do Elvis Presley, Grace Kelly and Nelson Mandela have in common? They are all fans of Tissot watches. Recently, Tissot hearkened back to their racing roots and named Indy driver Danica Patrick brand ambassador for Tissot.

Tissot has created innovative watches out of rock, wood and pearl. In 1971, Tissot was the first brand to create a watch out of plastic. In the late '80s, they continued to wow the design community by making conceptual watches out of granite, mother of pearl and wood.

Modern Tissot watches continue to utilize the latest technology. The T-Touch watch is one of the first functional touch-screen watches on the market. These watches feature touch-sensitive compasses, barometers and thermometers. If this watch sounds like something out of a spy movie, that's because it is: Angelina Jolie was seen sporting the ladies Tissot watch version in "Mr. & Mrs. Smith."

Buy Tissot Watches
Back to Guides Directory