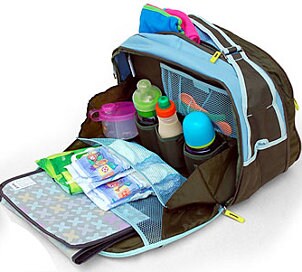 Diaper bags come in all styles and designs, from trendy leather messenger bags to easy-care canvas totes. Once you have selected the perfect diaper bag, though, you need to fill it with the proper gear, so you will be prepared for anything your baby needs when you are out and about. In time, packing your diaper bag will become second nature, much like packing your own bag or purse. It is common, however, for new parents to have some anxiety about packing the right stuff for a trip out with baby. While different trips will require different essentials, here are a few basics that can help keep traveling with your new baby stress-free.
What to Put in a Diaper Bag:

Diapering items. Of course, the most obvious items to put in a diaper bag are diapers. In addition to at least four or five diapers, you should pack a portable changing pad, a container of baby wipes and a handful of plastic bags for holding soiled diapers and clothing. You may also want to pack diaper rash ointment and one or two changes of baby clothing.

Feeding items. The types of feeding items you put in your diaper bag will largely depend on your baby's age and whether you breastfeed, bottle feed or a use a combination of both. For bottle feeding, be sure to pack powdered formula and baby bottles. Packing a bottle of water can also be helpful if you need to feed baby at an inconvenient time or location. For breastfeeding, be sure to pack nursing pads. Depending on your preferences, you can also pack a blanket or cover for breastfeeding in public as well as a small nursing pillow. If your baby is eating solid foods, you will want to pack a baby food, spoons and packaged snacks. Bibs and burp cloths will keep messes at bay for all parents.

Soothing items. Putting some items in the diaper bag to sooth and amuse your baby while you are out and about can make your life a lot easier. These items will depend on the baby and may include a pacifier, a blanket, a teething ring, teething gel, a favorite stuffed toy, books and other toys. You might also consider packing a small first-aid kit, tissues and baby sunscreen. The important thing to remember is that it is better to over-pack and be prepared in most cases, so pack whatever you think will come in handy and don't dismiss anything as unimportant. Eventually, you will learn what the essentials are for your baby and lifestyle.

Buy Diaper Bags
Back to Guides Directory