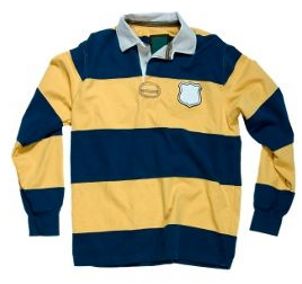 Rugby shirts, buttoned jerseys with stiff collars, were made popular by rugby players, but they have become more than sportswear today. Stylish men and women wear rugby shirts to add a sporty edge to their outfits. Look for women's shirts and men's casual shirts to find the rugby style that suits you best.
Women's Rugby Shirts:

Pair a women's rugby shirt with cropped pants. Fitted cropped pants in denim or a neutral complementary color, such as black, navy blue, brown and khaki, look great with rugby shirts. Wear flats, gladiator sandals or wedge sandals to give the look a more feminine touch. Be sure to find slim-fitting women's shirts so that your outfit isn't too sporty.

Wear a rugby shirt with a casual skirt. Skirts made from cotton, linen and denim look great dressed down with a striped rugby shirt. Add a jean jacket to contrast with a white or neutral-colored skirt and wear sporty shoes or flats for a funky look. Pair these women's shirts with a simple cardigan to change up the look.

Put a vest over your rugby shirt. Seek inspiration from sleek menswear by wearing your rugby with a vest and a pair of jeans. The key to keeping the outfit feminine is to wear dark, form-fitting jeans. Select a women's vest that emphasizes your waistline. The colors of each piece of women's clothing should match well. If your rugby is in a bright color, wear a neutral-colored women's vest and jeans.
Men's Rugby Shirts:

Wear a rugby shirt beneath a sweater. Upgrade the men's rugby shirt by creating a dressier outfit. Find a V-neck or crew-neck sweater that will not look bulky with a men's shirt underneath. The layering makes this outfit the perfect men's clothing for colder temperatures. Be careful with the colors, however. Men's shirts, especially rugby shirts, tend to be bright; find a neutral sweater that can play down the sporty vibe.

Put on a rugby shirt with a pair of jeans for a weekend look. You can also throw a hoodie or jacket over the men's rugby shirt or swap the jeans for a pair of khaki or denim shorts to stay cooler during the summer. A baseball cap or beanie finishes off the look.

Buy Women's Shirts
Back to Guides Directory