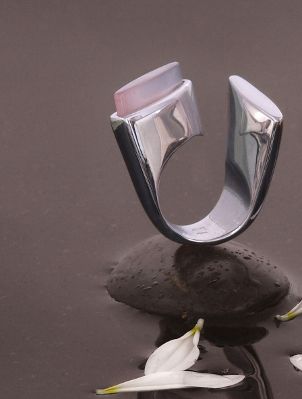 Rose quartz is a beautiful gem with a pale pink hue. Rose quartz can be opaque or translucent, and may range in color from the palest shades of pink to rich coral pinks. Rose quartz jewelry is beloved for its charming appearance and affordability. Rose quartz also has a rich history with a romantic mysticism. Many refer to it as the "love stone" because gem lore states that rose quartz jewelry can aid the wearer in all aspects of love. Let us help you accessorize with rose quartz jewelry selections such as earrings, bracelets, necklaces and rings.
Wearing Rose Quartz Jewelry:

Rose quartz earrings: Rose quartz earrings add a feminine touch to your look and can complement other pieces of jewelry. The rosy tone emphasizes charming blush skin tones and softens facial features. Rose quartz studs are simple and sweet and can be paired with jeans or a classic dress. Rose quartz earrings that dangle are romantic and can bring class and elegance to casual and formal outfits. Rose quartz hoop earrings make a glamorous statement and are also very versatile.

Rose quartz bracelets: Rose quartz bracelets come in many varieties, and each has its own beautiful features. Rose quartz bead bracelets emphasize a bohemian-chic look and can be stacked with several other bracelets and worn with jeans or a long skirt. Gemstone bangles in rose quartz look effortless and modern. Many rose quartz bracelets are carved or accentuated with other metals and stones for a dramatic jewelry statement. Rose quartz nugget bracelets offer a chunky style in a beaded form and can easily stand on their own, whether worn to the office or out on the town.

Rose quartz necklaces: Rose quartz necklaces are versatile and frame your face with a rosy glow. A rose quartz pendant is an elegant piece that you can wear in a variety of settings. Rose quartz pendants are available in a range of sizes and designs. A beaded rose quartz necklace can easily replace pearls when accessorizing a cocktail dress or evening gown and can also add a touch of vintage glamour to a more casual ensemble.

Rose quartz rings: Rose quartz rings offer a fun way to add gemstones to your outfit. Rose quartz rings come in all styles and sizes. A large rose quartz cocktail ring set into yellow gold and surrounded by diamonds is a great statement piece. Simple ring settings with small rose quartz stones are beautiful yet versatile and understated enough to wear every day.

Buy Quartz
Back to Guides Directory