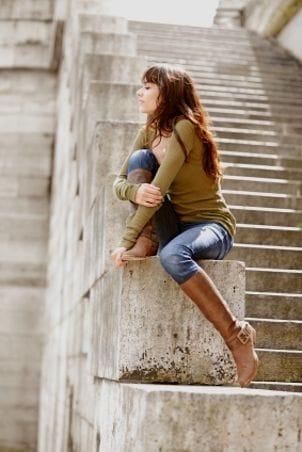 You don't have to be an equestrienne to wear riding boots with style. You just have to have a few key pieces in your wardrobe to wear with these classic women's boots. Whether you just want comfortable boots for fall and winter or you're online shopping for fashionable boots that make a statement, riding boots are a great choice. This guide will help you look great in whichever ones you choose.
Wear Riding Boots with Style:

Show off the sleek, long lines of riding boots with equally sleek pants. A pair of skinny jeans in dark wash that's similar in color to your boots will make you look tall and lean. Complement this silhouette with a full floral blouse belted at the waist or finish off the Western look with a western-style button-up blouse. Distressed skinny jeans also look good with women's riding boots when you want a casual look.

Try wearing them with leggings. Like skinny jeans, leggings mimic the shape of tall women's boots, but they also give you a contemporary feel. Buy opaque leggings in black or brown, depending on the color of the ladies' boots in your closet and add a richly colored tunic for a great autumn look. A comfortable sweater dress worn over leggings will also show off your boots.

Dress up your boots with a skirt. A knee-length pencil skirt and a crisp blouse will dress up a pair of leather riding boots, and this outfit is even appropriate for the office. Wear a full A-line skirt made of cotton or linen with riding boots for a lighter look, especially with a fitted blouse and pretty pearl jewelry.

Make the most of the horse-riding look. Wear your riding boots with fitted tan pants and a denim shirt for a street style that says you'd rather be in the saddle. Or swap out the denim shirt for a white blouse and a dark blazer to really make an equestrian statement.

For a different look, pull on a pair of boot-cut jeans over the boots so that just the toes are visible. You can also cuff straight-leg jeans to show off the buckles or other hardware. Women's riding boots look great beneath corduroy pants, too.
What Do You Want to Do Next?

Shop Women's Boots
Shop Girls' Boots
Shop All Shoes
See All Guides
Read More Clothing & Shoe Guides
Learn More about Shoes