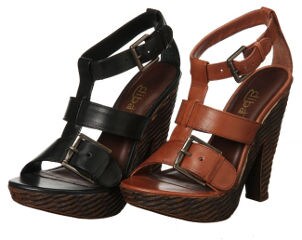 High heel sandals can add sophistication and a dressy touch to any outfit. Wearing the wrong type of high heel sandals for your feet, however, may result in sore, aching feet and a new aversion to wearing heels. But with the proper planning and consideration, you can learn to walk comfortably and feel confident in a pair of high heel sandals.
Wearing High Heel Sandals:

Consider the length of wear. Whenever you plan to wear a pair of sandals, think ahead about how long you plan to wear the shoes and the activities you have planned. For example, if you plan to do a great deal of walking, then wearing high heel sandals might not be the best option. If you are going to a formal event or other type of function where you will be mainly sitting, a high heel sandal might be perfect because you won't be on your feet for any extended period of time. While some people feel perfectly comfortable walking around in high heel sandals, others may find these shoes are somewhat uncomfortable when worn too long or during extended periods of activity.

Find the right style. Choosing the right high heel sandal is also important because this can be a determining factor in the level of comfort you experience with a particular shoe. For example, a spiked heel sandal with a tight ankle strap is best for moments when you are off of your feet, but they do provide better support for those who aren't as confident walking in high heel sandals. High heel sandals without a strap or back can be difficult to walk in. When considering the height of the heel, grab several pairs of heels from your closet and walk around your home. Pay attention to your comfort level to decide which style works best for you.

Think about your feet. If you have foot problems of any kind, use a foot insert made specifically for sandals. You can also purchase inserts or padding that protect and cushion the affected parts of your feet. Schedule regular pedicures to maintain optimal foot health and keep toes washed, clipped and clean. You should also regularly scrub your heels and apply lotion so that they do not rub and create blisters.

Buy Heels
Back to Guides Directory