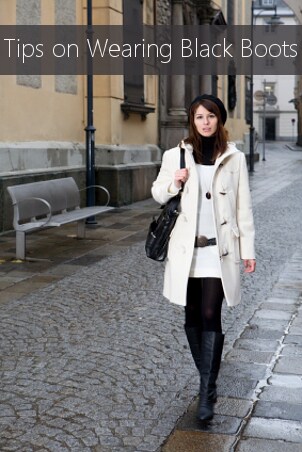 They can look classic or edgy, and a pair of women's black boots is a style essential. But with so many options available, you won't want to limit yourself to one pair of basic black boots. Try one of these styles and different ways to wear them.
Wearing Women's Black Boots:

A pair of black ankle boots is more versatile than you might think. Wear these with skinny jeans and a T-shirt for a casual, cool look. For work, wear tailored dress pants and a blouse with booties; look for trousers in cool colors, such as white, cream, or blue to set off your boots. Of course, you don't have to just stick with pants. Ankle boots also look great worn with pencil skirts, maxi skirts, little cocktail dresses, and even sweater dresses. To look taller, match your tights to your boots.

High-heel black boots can dress up any look. A pencil skirt, paired with a fitted button-up and black high-heel boots, creates the perfect work ensemble. If you're looking for an outfit that's less formal, pair them with jeans and a T-shirt; fitted straight-leg or skinny jeans work best for tucking into classic black boots, but boot-cut jeans can also be cute. Shake things up by wearing black high-heel boots with cuffed gaucho pants that skim the tops of your boots; add a comfortable sweater to warm up the look for fall.

Black flat boots can keep a look edgy. Your flat boots can help you stay warm throughout fall when you wear them with leggings, flannel shirts, and sweaters. These will also look good with jeans or corduroy pants. On the other hand, you can also wear these comfortable boots with a pretty A-line skirt. Try toughening up a feminine dress with a pair of black motorcycle boots, too.

Over-the-knee boots can be sexy or sweet. Black thigh-high boots are a hot way to dress up for a night out on the town, especially when you wear them with a mini dress. But you can also wear them over a pair of skinny jeans with a blouse and a blazer, and they become much more prim and proper than you'd ever expect.
What Do You Want to Do Next?

Shop for Rain Boots
Shop for Women's Cowboy Boots
See All Women's Black Boots
See All Guides
Read More Clothing & Shoe Guides
Learn More about Shoes