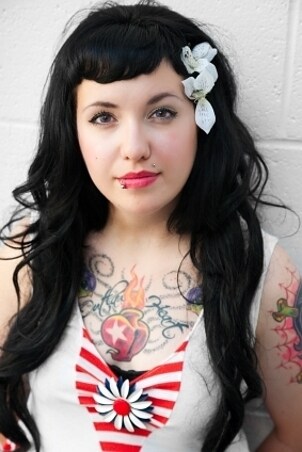 When you think of brooches, you probably picture ornate pins that are best worn with dresses and corsets from the 19th century. Brooches have moved into modern fashions, however, with a variety of funky and interesting styles. You can easily give your standard wardrobe a whole new look with lovely brooches in a variety of designs. Consult these tips to figure out how to integrate brooches and pins into your jewelry collection.
Wearing Brooches Casually:

Pin a brooch to a T-shirt. If you have an old T-shirt that doesn't quite give you the shape you desire anymore, then use a fun and colorful brooch to give it a completely new look. With a pair of sewing scissors, cut a slit in the neckline, sleeve or side and use the brooch to pin it closed. Pinning a T-shirt with a brooch not only adds instant jewelry flair, but it can help you repurpose a T-shirt that you thought you were done wearing.

Wear a brooch on a hooded sweatshirt. Grey collegiate sweatshirts get a quick touch of femininity from big, colorful floral brooches. Diamonds and gemstones look especially fabulous on slouchy sweatshirts. If you have the same sweatshirt as everyone in your dance group or on your soccer team, then a brooch will easily set your jacket apart from the crowd and make it easy to find on the bus.

Decorate your handbags with brooches. If you get tired of carrying the same handbag every day, then use a pin or a brooch to dress it up. Sparkling crystal brooches and bright canvas pins look amazing on leather totes and canvas messenger bags. You can even keep a collection of brooches on hand and wear a different pin each day to match your outfit.

Try an adorned scarf. Scarves go well with a variety of casual ensembles. Add a bright yellow scarf to a pair of jeans and a navy blue T-shirt and pin the scarf with an adorable nautical-themed brooch for a casual outfit that is anything but slouchy. Gemstone brooches look fabulous on argyle scarves and floral brooches perfectly accent patterned silk scarves.

Buy Brooches
Back to Guides Directory