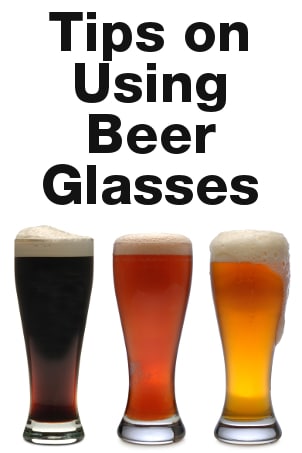 Enjoying a cold beer is a delight, and the right beer glasses can make the experience even better. Different types of beer are traditionally paired with different meals and even changes in the weather, but more important than knowing the "right" beer is choosing the appropriate beer glasses. Different beers have different qualities, and enjoying them from the proper barware can enhance the beer drinking experience.
Using Beer Glasses:

Choose the right glass: Beer glasses come in many different shapes and sizes, and knowing which beer glass goes with which beer not only makes you look like a beer connoisseur but will make the beer you're drinking taste even better.

Common Types of Beer Glasses:

Pilsner glasses offer a classic shape, narrow at the bottom and slightly tapered to a wider top. The slender glass showcases the color of the beer while the wide mouth allows enjoyment of the aromas and head of the beer.

A pint glass is probably what comes to mind when you think of a beer glass; available in several variations, it is the workhorse of beer glasses.

A beer stein is another classic piece of barware; traditionally featuring a hinged lid, this barware is best used for raucous evenings of imbibing.

Specialty beers often have specialty glasses associated with them; these beer glasses are designed to highlight the specific qualities of a single beer.

Chill the glass: This is a controversial trick. Although drinking ice cold beer from a frosty mug is aesthetically pleasing to many, there are those who believe the frozen condensation melts into your beer and dilutes it. If you choose to risk it, make sure to follow these steps:

Chilling a Beer Glass:

Make sure your beer glasses are clean and completely free of soap.

Rinse each glass with cold water, inside and out, and place immediately in the freezer. Do not dry the glass before putting it in the freezer; the moisture is what frosts your beer glass.

Allow enough space between beer glasses for air to circulate freely.

Wait an hour for the glass to become thoroughly frosted. Remove the beer glass from your freezer and enjoy.

Don't stack your glasses: Storing beer glasses can present a challenge if you have limited cabinet space. While stacking pint glasses saves space, it can also ruin your beer glasses. Each time you stack barware, you create tiny imperfections in the inside of the glass; these flaws prevent the head from properly forming.

The correct pour: When you pour the beer into the glass, hold the glass at an angle and pour onto the side of the glass until it's about halfway full. Then, straighten the glass while continuing to pour until it's full. This should give you the ideal amount of foam, or "head."
What Do You Want to Do Next?

Shop Beer Glasses
Shop Bar Tools
Shop All Glasses & Barware
See All Guides
Read More Kitchen & Dining Guides
Learn More about Glasses & Barware