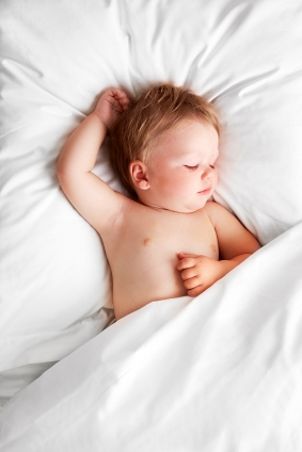 A video baby monitor is a wonderful invention for parents who want to keep an eye on their baby. Video baby monitors can give you visual confirmation of your child's well-being, whether you are a new parent with an infant or you have several little ones to watch. Baby monitors are an essential for busy families and parents with larger homes. You can literally keep an eye on your baby with a video baby monitor, even if she sleeps in the nursery down the hall. Baby monitors are helpful around the house when parents need to prepare dinner or a legal brief during baby's nap. In addition to a digital picture of your child, your infant video monitor will pick up sounds from your baby's crib and alert you when he awakens. Use our tips to ensure that you are using your baby video monitor properly for the best results.
Using a Video Baby Monitor:

Camera position: Proper camera position is important when using a video infant monitor. Position the camera portion of your baby's video monitor on a nearby dresser or another sturdy object at an angle where you can see the entire crib mattress. While some baby monitor cameras clip onto the end of the crib, it may be difficult to see the portion of the mattress just below the monitor. Even small infants can wiggle into any corner of the crib, so you'll rest easy knowing you can see your infant even if she scoots around.

Monitor: Set the monitor portion of your infant monitor on a counter, desk or table, facing you when possible. Some infant video monitors clip to your waistband, which can be helpful for when you are cleaning or doing a workout dance video. Some baby monitors come with alert lights, so you can turn down the volume when you have guests or when you are on the phone. Many video baby monitors come with a stand-by mode that allows the monitor screen to go blank when your infant is sleeping quietly. If your baby cries, the camera will switch on immediately. This feature is great for using a video monitor while you are sleeping. Some video monitors with standby technology also have a motion sensor to detect even slight movements.

Extra parent monitor: With an additional portable monitor, both parents can watch their infant from different rooms in the house. Extra monitors increase your baby's safety and your peace of mind. Even an older sibling can take part in watching the baby if you have an additional monitor. Some video baby monitor sets will come with more than one monitor, and they are also available as a separate purchase.

Buy Baby Monitors
Back to Guides Directory