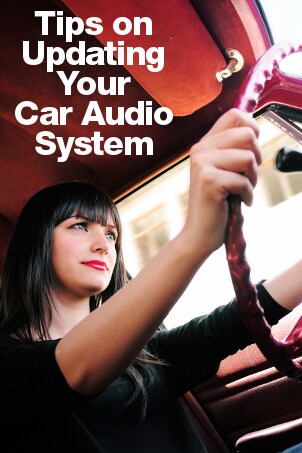 With the rapid change of technology, chances are your car's audio equipment is out of date. Give your car a simple upgrade with a new car stereo or car speakers. You may encounter a few common challenges as you start adding and replacing car audio components. To avoid common mistakes while giving yourself the latest, consider these tips as you plan for a new system.
Car Audio Upgrade Tips:

Increase your options with a new receiver. Older car stereos won't have connections for new audio equipment. Look for a car audio receiver with different ports, such as a USB connection for an MP3 player, mobile phone, or tablet. A new stereo can also give your car added video capabilities with the convenience of a rear-view camera. For ultimate hands free convenience, look for a new car stereo that has Bluetooth support for your cell phone.

Add an antenna adapter to your satellite radio. Some satellite radios use a wireless FM transmitter to communicate with a satellite antenna on your car's exterior, but their wireless nature can introduce static into your car audio sound. By using the antenna adapter, you can use the receptive power of your car audio system's built-in antenna, with no loss in sound quality.

Use an FM transmitter for external devices. Wireless connectivity can be an all-purpose solution to car stereos with limited connection options. Using a wireless FM transmitter connects external devices to your existing car stereo by tuning into an unused radio channel. This option is an easy and inexpensive way of playing your iPod, cell phone, or tablet using your existing car audio equipment.

Match your speaker wire to new speakers. Higher gauge speaker wire will have a lower resistance, delivering more power to your car speakers. The existing speaker wire in your car audio system may be low gauge and may not match the load capacity of your new car speakers. This can keep your car audio system from peak performance. Be sure to match your speakers with the right speaker wire and run properly insulated wiring as you upgrade your car audio equipment.

Plug everything into an in-dash screen. A touch screen in your dashboard opens up a lot of options that you would only find in a luxury car, like a back-up camera, DVD player, voice-recognition, and Bluetooth compatibility. Consider the design of your dash and whether you have space for an embedded screen or a fold-out screen.
What Do You Want to Do Next?

Shop Car Stereos
Shop Car Speakers
Shop All Car Audio
See All Guides
Read More Electronics Guides
Learn More about Car Audio