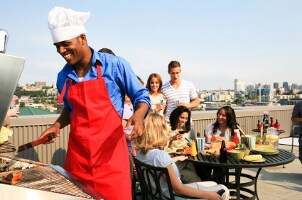 Warm summer evenings are the perfect time to have friends and family over for a backyard party. It's fun to fire up the grill for everything from holiday celebrations to birthdays and graduations, but an outdoor party requires a lot of planning. Get your garden and patio in shape for the festivities with the following tips on throwing a backyard party.
Outdoor Party Tips:

Make a menu plan: When you're planning what to eat and drink at your party, remember that convenience is key in backyard dining. You don't want your guests to have to balance plates of messy food. Instead, consider pulling out the grill for some hamburgers and supplement with easy finger foods served on cute melamine plates. Beverage dispensers provide easy access to punch and lemonade. Consider setting up an outdoor bar to serve cocktails.

Be ready for outdoor dining: Patio dining sets are a great way to seat your guests while they eat, but you may need more seating space than a single set offers. Create more seating without taking up too much space with tall bistro sets, or create a unique seating area by placing floor cushions around an outdoor coffee table. Swapping chairs for long benches provides more seating around a table as well.

Make weather preparations: When you're partying in the backyard, weather is always a concern. Check the weather forecast and plan ahead for heat or cold, wind or rain. For a hot summer afternoon, a few patio umbrellas or sun sails can provide shade for your guests. For cold, wet weather, a gazebo or canopy protects guests from the rain, and outdoor heaters help keep them warm.

Set the scene: Whether you're throwing a backyard luau or a basic backyard barbecue, you'll want your yard to look extra nice and inviting for your gathering. Outdoor lighting is your first step. Use outdoor candles, solar lights or strings of round bistro lights to provide your guests with light when the sun goes down. Do a little decorating to create a party atmosphere. A bright tablecloth and vases of wildflowers are always appropriate, but you can also pick decorations based on a theme. Tiki torches and seashells are perfect for a luau, and red, white and blue luminaries add a patriotic touch to 4th of July festivities.

Buy Garden and Patio Products
Back to Guides Directory