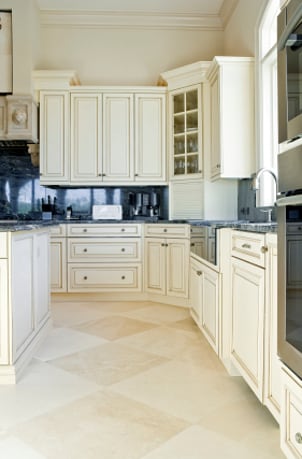 With the wide array of modern kitchen cabinet designs, homeowners can easily choose models that complement and enhance their lifestyles. Picking out the style and color of your kitchen cabinets is easy. But it can be a little more difficult to decide the best way to arrange your cabinets. When positioning kitchen cabinets, it's best to balance functional workspace while keeping an eye on design. In addition to traditional kitchen cabinets, specialty items, such as wine racks, foldout pantry cabinets and slide-out drawers, allow homeowners to combine good looks with functionality. Here are a few home improvement tips to consider when laying out your kitchen design and cabinet positions.
Positioning Kitchen Cabinets:

Envision a work triangle. You may be using your kitchen design to decide where cabinets should go, but you may also want to consider how people will be moving throughout the kitchen. When positioning kitchen cabinets, keep in mind the distance between different appliances and elements used in food preparation. You want your kitchen remodeling to improve function. Map out a "work triangle" formed by lines connecting the sink, the range and the refrigerator. To minimize excess walking, this triangle should be as small as possible while still being practical. Kitchen-cabinet positioning should accommodate and enhance the work triangle. For example, placing a lower cabinet next to the open-door side of the refrigerator will make it simple to take food items out of the fridge and set them on the counter. Separating the three elements of the work triangle by lower cabinets also allows the cook to remove hot items from the stove and place them on the countertop, and provides counter access near the sink for dirty dishes. In addition, an upper cabinet set above the dishwasher simplifies the task of putting away clean dishes.

Consider standard kitchen cabinet sizes. Standard cabinet size is a factor when determining how to arrange your kitchen cabinets. The standard height of a base cabinet is 34.5 inches. After allowing approximately 0.5 inches for the thickness of a countertop, the finished counter height is approximately 35 inches. Lower base-cabinets are typically 24 inches deep. When positioning base cabinets, consider the remaining walking space in front of each unit. Leaving at least 4 feet of open floor space in front of cabinet doors, drawers and the stove will give the cook room to move with ease. Upper kitchen cabinets are only 12 inches deep, and they vary in height from 30 inches to as small as 12 inches to accommodate placement over a range or microwave. Both upper and lower kitchen cabinets offer large corner units, sometimes with installed "Lazy Susan" rotating shelves, to lessen the need to reach into far corners of the cabinets.

Focus on kitchen design. While function is important, you want your kitchen to look stylish as well. Utilize symmetrical appeal by positioning upper cabinets of similar size on either side of your sink and range, if space permits. Place a tall, pantry-type cabinet next to the refrigerator to camouflage the side closest to your living area. Consider installing a base cabinet or an island cabinet with an attached eating bar on the backside to provide an attractive eating space without taking up lots of floor space in a small kitchen.

Buy Home Improvement
Back to Guides Directory