Table linens are not just for formal occasions. You can make everyday meals and gatherings special when you dress up your table with table linens. With a wide variety of fabrics available, you're certain to discover linens that fit your personal style and your pocketbook. Check out our guide for helpful hints and tips as you stock your linen closet.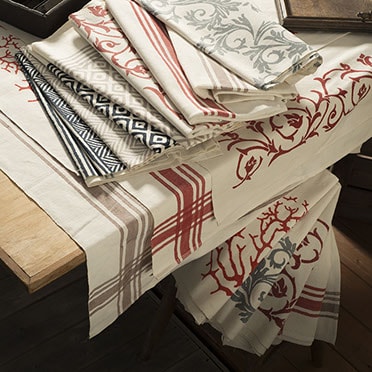 Types of Fabric
When considering table linens, the type of fabric they're made of should be at the top of your list. Fabric choice determines your look and, more importantly, the amount of maintenance your table linens will require. Here are some of the most popular materials used in table linens:
• Linen is made from the flax plant. Being a natural fiber, it tends to have a soft, relaxed feel. Linen adds refinement to your table, whether at an intimate dinner or a grand event.
• Cotton is a good choice if you're looking for table linens that are functional and machine washable. Cotton may require some ironing to look crisp, so consider a cotton-poly blend if you want to wrestle with fewer wrinkles.
• Polyester is less prone to fading, so your linens are more likely to hold their color, even after many washings. While polyester lacks the smooth feel found in natural-fiber table linens, it's the easiest fabric to care for.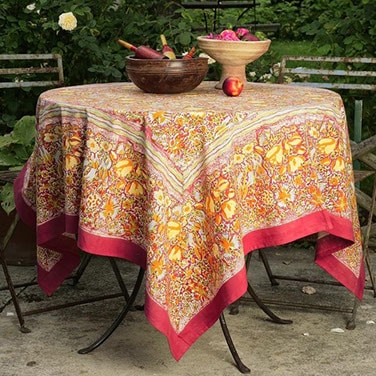 Tablecloths
Whether it's your grandmother's dining room set or a folding card table, tablecloths are an easy way to add color, interest, and texture to your table. Tablecloths are available in a variety of shapes, sizes, and fabrics, so you can find a tablecloth suitable for every table and occasion.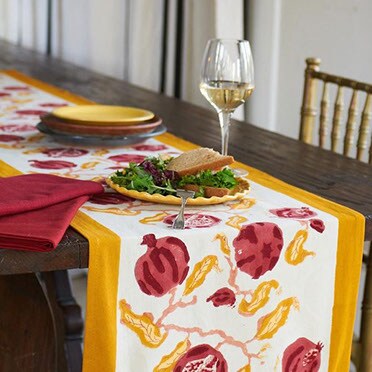 Table Runners
Table runners are a versatile addition to your table linens collection. A table runner can add visual drama or create a cohesive look. It can also protect your table from hot dishes or pans. Available in simple or ornate designs, and in a variety of fabrics, table runners are a quick way to mix things up. As a rule, a table runner should hang over six inches at each end of the table.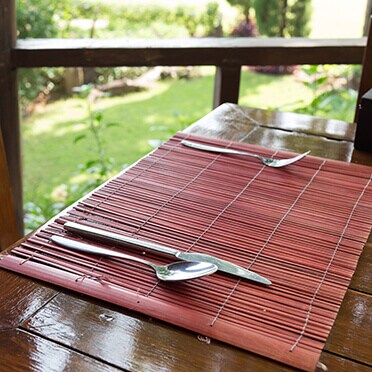 Place Mats
Place mats are a practical addition to your linen closet. Place mats protect your table from spills and make cleanup a snap. Rectangular place mats are traditional, but now they're also available in square and round shapes for a more contemporary look. Place mats are made in a variety of materials -- jute, canvas, linen, wood, plastic, and more -- to accommodate every look or occasion.
Cloth Napkins
Your guests (and your lips) will thank you for using cloth napkins. They're reusable, which means they're eco-friendly. They're easily laundered with your other linens. Standard sizes for cloth napkins range from 16" x 16" square to 21" x 21" square. Generally the larger sizes are best for more formal occasions, as they allow for more elaborate folding patterns.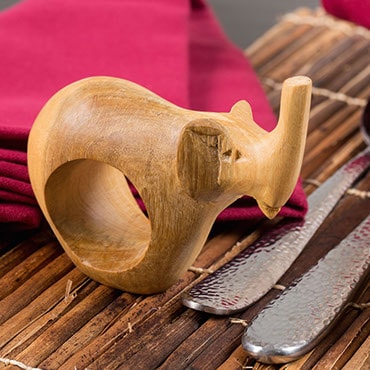 Napkin Rings
While napkin rings might not be critical for a casual gathering, they add a polished touch to more formal affairs. When deciding on the best napkin rings for your next occasion, consider the colors of your linens and overall theme of your design. The best-designed tables balance form and function, and napkin rings are a perfect way to tie everything together.