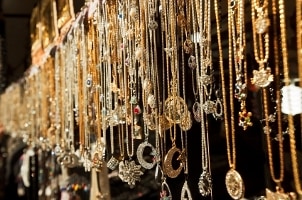 A collection of pendants is at the heart of most women's jewelry collections. A diamond-covered kitten pendant, a heart-shaped gold locket and a birthstone solitaire necklace shouldn't be strewn across your dresser with your sterling silver rings and beaded earrings. Storing your pendants properly is the best way to make sure that you'll wear them, getting the most out of your jewelry investment. Use these jewelry storage tips to keep your pendants and necklaces organized.
Storing Pendants:

Store them on chains. You can store your pendants on the chains on which you wear them. Hang your necklaces in an armoire or on a necklace stand. Storing your pendants on the chains and cords will make it easy to slip one or two necklaces on when you are getting dressed. This jewelry storage method works best if you have a chain or a cord for every pendant. If you collect pendants and frequently mix and match chains and cords with different pieces, then this method can easily become tiresome.

Store them in individual armoire compartments. If you have a jewelry armoire, then you should consider assigning pendants spots in small drawers and compartments. Some armoires have enough drawers for each pendant to have their own. Other armoires will make space for pendants in slots or in one large compartment. Assigning compartments to your pendants will make it easy to keep your jewelry organized.

Store them in their own jewelry box. If you've run out of room in your armoire or if you don't have enough pieces to fill an entire jewelry armoire, consider investing in a small jewelry box. Jewelry boxes are available in a range of styles. Wood, metal and stone jewelry boxes add a decorative touch to your home, while painted jewelry boxes splash your bedroom in color. If you have a large pendant collection, choose a jewelry box with a variety of slots and compartments. If your pendant collection is small, then you can keep them in one large compartment. Be sure to store delicate pieces in small boxes or bags. Pendants with soft gemstones such as coral and opal can be scratched by diamond pendants and metal pendants.

Buy Pendant Necklaces
Back to Guides Directory