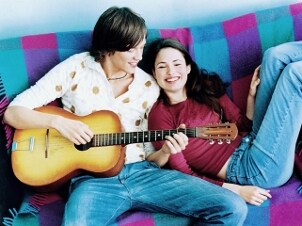 A promise ring stands as a symbol of love, respect, and commitment. When you are ready to promise your love, your heart, and your future to your girlfriend or boyfriend, it's time to shop for a promise ring. It's a representation of your feelings and commitment, and it's a wonderful way to show that you want to keep your relationship strong. Here's how to choose a promise ring with style and meaning.
Promise Rings for Her:

Start with the right metal. When shopping for jewelry, you'll find a wide variety of pieces in a range of metals. Sterling silver is both beautiful and affordable, but yellow gold might be more her style. Consider her wardrobe and current jewelry collection when choosing a metal.

Find the right setting. In addition to the many metal options, you'll need to select a setting style. Solitaire promise rings are classic, which is perfect for a woman with an elegant style. Three-stone promise rings have their own symbolism about the past, present, and future. An eternity band, with diamonds wrapping around the circumference, also symbolizes your comitment; this ring may be nice to stack with an engagement ring when the time is right.

Carefully select stones. Diamonds are a popular choice for promise rings. Choose a round-brilliant or princess-cut diamond if you are looking for a classic promise ring. Cubic zirconias look lovely in promise rings of all styles, and they come in every color. Gemstones are also amazing in promise rings. Choose a promise ring that matches your girlfriend's personal style by selecting a stunning gemstone or combination of cubic zirconias.

Consider an inscription. Many promise rings are available with an inscription inside the ring. A message about your love and devotion can make the gift even more meaningful. Looking for something that echoes the emotions that you feel will come across as the most authentic.
Promise Rings for Men:

Promise rings are not only for women. If you want to show your boyfriend how committed you are to your relationship, then give him a men's promise ring.

Rings made of industrial metals are very popular, especially among young men. Titanium, tungsten, and stainless steel bands make very stylish promise rings. These are often embellished with diamonds or gemstones.

Consider tungsten and titanium rings with colorful details. These rings are hip and youthful.
What Do You Want to Do Next?

Shop for Promise Rings
Shop for Engagement Rings
See All Rings
See All Guides
Read More Jewelry Guides
Learn More about Rings