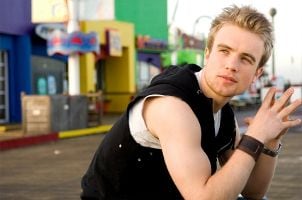 If you are a man who feels like he blends in a little too much, consider purchasing men's designer jewelry. Men's jewelry selections, such as necklaces, rings, bracelets and earrings, provide a great way to personalize a suit or a pair of jeans. There are endless men's jewelry options available, from men's rings for the conservative businessman to men's necklaces for the laid-back guitarist. When shopping for men's designer jewelry, it is important to select pieces that will reflect your lifestyle and fashion preferences. Let us help you choose men's designer jewelry that is tasteful and versatile.
Choosing Men's Designer Jewelry:

Necklaces: Men's designer necklaces are available in a wide range of styles and materials, including sterling silver, gold, leather and hemp. When choosing a men's necklace, consider your style and wardrobe. Silver and gold necklaces, for example, are sleek and shiny, making them a good jewelry pairing for a suit or formalwear. Leather and hemp necklaces, on the other hand, offer a casual vibe and go well with jeans and button-up shirts or T-shirts. Choose jewelry that you will want to wear on a regular basis to get the most out of your investment.

Bracelets: When shopping for designer jewelry, men's bracelets offer many choices. As with necklaces, it is important to choose a men's bracelet that matches your personal aesthetic. Bracelets are more subtle by nature, however, than necklaces, so feel free to think outside the box. A men's leather bracelet, for example, goes well with slacks and a T-shirt but can also be worn with business wear. Gold and silver bracelets are also quite versatile and can be worn with other pieces or on their own.

Rings: Lifestyle is one of the most important considerations when selecting a men's ring. You will likley want to wear your rings daily, so durable rings are recommended if you lead an active lifestyle. Gemstone rings and rings with a lot of detail, for example, may not be practical for daily wear, but they can be great for special occasions. Men's rings made of tungsten and titanium are durable choices that are available in many designer styles.

Earrings: Men's earrings of all styles have been popular for decades and give men the chance to put their personality front and center. Diamond stud earrings are luxury jewelry selections. Metal studs offer a more subtle look and can be worn with anything in your closet. Ear plugs, stretchers and thick-gauge studs are hip, modern and allow you to personalize your look. Remember that men's earrings are not always sold in pairs, so check the details before purchasing.

Buy Men's Jewelry
Back to Guides Directory