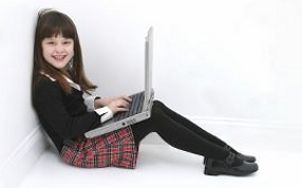 Between playing in the mud, running on the playground and climbing over rough terrain, kids are tough on their shoes. For parents, this means trying to balance finding high-quality children's shoes that can stand up to intense wear with selecting shoes that will not break the bank, since your kids might outgrow them quickly. While shopping for the perfect pair of children's shoes, consider materials, style and ease of cleaning.
Selecting Kids' Shoes:

Look for flexible toddler and infant shoes. Since infants do not need much support in their shoes, you can buy any style of baby shoes that suits your tastes and the season. Sandals and thin slip-on shoes are perfect for the summer and for warmer months, while insulated booties will keep tiny toes warm in cold weather. If your baby is starting to cruise around the room, look for flexible-soled baby shoes with a closed toe that will allow him to move his foot naturally. Leather is a durable choice of material, and it will hold up well while protecting your toddler's feet.

Find children's shoes that will withstand wear. Children's feet can grow up to two sizes in as few as six months, so finding affordable, durable shoes is important. Look for kids' shoes made from heavy-duty materials that can withstand hard use, such as leather, canvas or tightly woven fabrics. Natural materials are easy to clean, and they allow your child's feet to breathe. Boys' shoes and girls' shoes with Velcro fasteners are good for kids on the go, while lace-up shoes allow you to teach your child how to tie his or her shoes. Look for reinforced stitching with heavy thread, grommets in the lacing holes and thick soles with ample tread. Properly fitted kids' shoes have one finger width between the big toe and the end of the shoe.

Purchase stylish, durable shoes for preteens and teens. Preteens and teens' feet grow more slowly, so it makes sense to spend extra money on shoes crafted with superior materials that will last. Natural materials are your best bet for long life and durability in boys' shoes and girls' shoes. Make sure to involve your child in the purchasing process to make sure you find shoes that fit his or her style and will be comfortable to wear. If your child participates in competitive athletics, purchase two pairs of shoes geared toward that sport and have your child regularly alternate to keep them from wearing out quickly.

Buy Children's Shoes
Back to Guides Directory