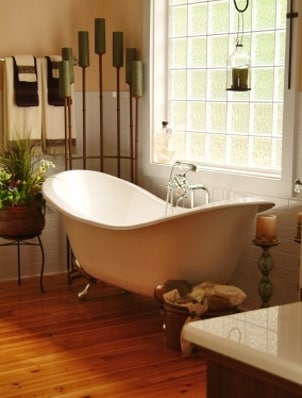 When it's time to remodel your bathroom, choosing a new bathtub is one of the most important decisions you'll make. After all, your bathtub makes a major difference in both the look and functionality of your bathroom. Bath tubs come in a wide variety of sizes, styles and materials, and different kinds of tubs work well for different kinds of bathrooms. If you're shopping around for a new bath tub but aren't sure where to start, read these tips that will help you narrow your search.
Selecting Bathtubs:

Consider bathroom space. The size of your bathroom will determine which kind of bathtub you can buy for your bathroom. If your bathroom is small, then you probably won't want to install a walk-in tub or a clawfoot tub, especially if you already have an alcove for a drop-in tub. If you have a large bathroom, on the other hand, then you can choose from all the different styles of bathtubs.

Consider bathtub cost. How much do you want to spend on your new bathtub? If you are remodeling on a tight budget, then a quality drop-in bathtub may be a wise choice, since they are usually the least expensive kind of bathtub. If money is less of an issue, then free-standing bathtubs, like soaking bathtubs and clawfoot bathtubs or even walk-in bathtubs, may be worth considering.

Consider bathtub usage. Knowing the amount of time you plan to spend in your bathtub and whether you'll actually be soaking or just showering will help you understand which sort of tub to buy. If you plan to spend of lot of time relaxing in your bathtub, a large soaking bathtub or a walk-in tub with jets may give you the most tub for your money. However, if you want a bathtub that looks nice but you don't actually plan to spend much time soaking in it, then a clawfoot bathtub in a modest size may suit you fine.

Consider bathtub material. The material of your bathtub with affect the look, durability and price of the tub. Fiberglass is a very common bathtub material, especially for drop-in tubs. Fiberglass is the least expensive bathtub material up front, but it is not the most durable. Acrylic and porcelain are used often for free-standing bathtubs, and they're both very durable, though they aren't as affordable as fiberglass. Cast-iron bathtubs will cost you a lot, but they will also last for a long, long time.

Consider bathtub style. When you're clear about the practical particulars surrounding your bathtub purchase, you're free to choose a style you like. Drop-in tubs are affordable and can look great in a properly decorated bathroom. Clawfoot tubs are a nice way to give a bathroom a classic look, whereas some other free-standing bathtubs have modern contours than can complement contemporary decor. Walk-in tubs, on the other hand, will give any bathroom a look of luxury.

Buy Bathtubs
Back to Guides Directory