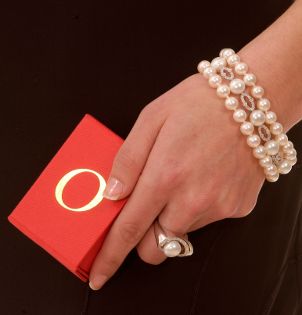 Cultures all around the world associate the pearl with elegance and luxury. Pearl jewelry symbolizes love and happiness and looks beautiful on any woman. Pearl bracelets make wonderful jewelry gifts because they are classic and versatile. A woman of any age can wear a simple pearl bracelet to dress up a workday outfit or showcase an extravagant piece of pearl jewelry with a fancy cocktail dress. You can give a pearl bracelet to commemorate a special occasion, such as a job promotion, graduation or birthday, or to surprise the lucky woman in your life on any holiday year-round. Use our tips to choose pearl jewelry for someone special.
Selecting a Pearl Bracelet Gift:

Size: Most women will be able to wear the standard bracelet length, which is seven inches. If you are unsure about standard-sized bracelets, choose a bracelet that stretches or purchase extra links or an extension chain as part of the gift. Cuff bracelets are also a good option if you are concerned about size, because they slide on and can fit nearly any woman's wrist. Many pearl cuff bracelets and pearl bangle bracelets open with a hinge, making them very easy to put on.

Pearl type: You have many different options when shopping for pearl bracelet gifts. You will need to select between cultured saltwater and freshwater pearls; both are real pearls cultivated in farms. Natural pearls are plucked from the wild and tend to be very expensive. Both cultured and natural pearls come in a variety of shapes, sizes and hues. Pink pearls are wonderful for teenagers, while grey pearls are classic and elegant and will suit the fashionable career woman or the well-dressed grandmother.

Style: Pearl bracelets are available in many different styles. Single-strand pearl bracelets are common and popular for their versatility and affordability. Bracelets with multiple strands of pearls are fun and offer a more dramatic statement. Link bracelets made of chains and dangling pearls are whimsical, making them perfect for younger women. Pearl bracelets with gemstones and intricate metalwork are extravagant and sparkly. Choose a pearl bracelet that will match the recipient's lifestyle, current wardrobe and fashion preferences.

Buy Pearl Bracelets
Back to Guides Directory