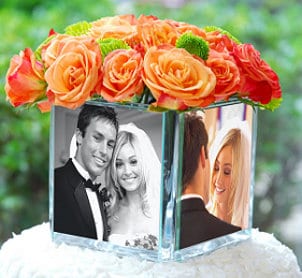 The fastest way to save money on your wedding is to do a lot of the preparations yourself. There's no need to be overwhelmed by all the wedding planning if you have some help. Learn to delegate projects to the most qualified members of your family, friends or wedding party and you'll see how easy it is to save money on weddings. Most people who care about you and your happiness are more than happy to lend a helping hand to your wedding preparations.
What You Need to Know:

Bouquets: If you choose silk flowers, you can make your wedding bouquets ahead of time. Even if you are set on having fresh flowers, which will have to be prepared shortly before the wedding ceremony, you can choose a simple construction method. Wrapped bouquets are not difficult to do. When you make a wrapped bouquet, choose one to three large flowers for the center; work other flowers around these main flowers in a dome shape. Wire the stems and wrap floral tape over the wire; then wrap ribbon around the tape. Cut the bottom stems even and you are done. You will save hundreds of dollars in your wedding budget by making your own bridal and bridesmaid bouquets.

Food: One of the biggest expenses in a wedding budget is the food. Catering is expensive, so put someone you trust in charge of overseeing the cuisine and you have another way to save money on the wedding preparations. Pick a theme, such as Italian, Mexican or all-American and set up a buffet rather than a sit-down dinner. Make sure the person you put in charge is aware of food preparation standards, which will include how hot or cold food must be kept while serving. You can delegate others to be in charge of setting up cutlery, napkins, plates and drinks.

Centerpieces and decorations: Your wedding decorations can be simple and still reflect elegance. Learn how to make your own decorations, such as pew bows and reception table centerpieces. Local craft or floral shops may be willing to give you a lesson. Again, using silk flowers will allow for preparation ahead of time. For tables, purchase 12-inch square mirrors and place a simple clear vase on top. Use colored florist marbles or polished stones in the vase to match your wedding colors. Place flowers in the vases.

Favors: Make your own favors. This is another aspect of your wedding preparations that can be completed early. Consider a cellophane bag with coffee beans at the bottom. Stick a biscotti cookie in the beans. Wrap a satin ribbon around the top with a small tab attached with the names of the bride and groom and the wedding date. Guests can enjoy a fresh cup of coffee and cookie, the morning after the ceremony. The tab can be created on your computer and cut to size. Homemade sugar cookies with royal icing are perfect in a heart shape. Wrap them in the same manner as the coffee beans. You can use the traditional tulle and Jordan almond favors; lemon drops, jelly beans or red-hot hearts are other good choices. Do some online shopping to find sites that sell candies, ribbons and craft supplies in bulk at discount prices.

Buy Wedding Planning
Back to Guides Directory