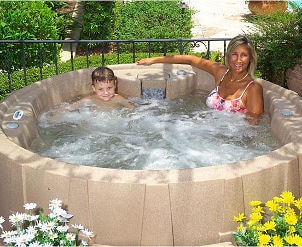 You're probably looking for more excuses to spend time relaxing on the porch, sipping a beverage and chatting with friends and family. Buying a hot tub will not only allow these delectable activities, but can offer therapeutic effects as well. Read on to learn some considerations to make when searching for your perfect jetted spa.
Researching Hot Tubs:

Number of seats: Spas come in all shapes and sizes and can accommodate anywhere from two to 12 people. When deciding what size hot tub is right for you, remember to consider both how many people you would like to have in the spa at a time and how large the space is where you will place the hot tub. Larger hot tubs will not only require more square footage, but will also weigh more when filled with people and water.

Types of jets: While the warm water of a heated spa can relax you mentally and physically, the therapeutic effect of high-pressure jets can massage your sore muscles. Depending on the type of jet effects that you desire, you should decide on whether you prefer volcano, whirlpool, ozone, adjustable, neck, dual rotator, directional, swirl or pulsing jets. These jets differ in whether they shoot steady or pulsing streams, or shoot straightforward streams instead of creating a swirling effect.

Lighting: One of the best times to enjoy a hot tub is in the evening, so you will definitely want to take into consideration what type of lighting your hot tub includes. Hot tubs now feature an array of lighting options, from LED to fiber optic lights.

Electronic accessories: Hot tubs come with a variety of luxury accessories these days, including DVD players, televisions and CD radios. Think about what types of entertainment may augment your soaking experience.

Additional considerations: Remember that larger hot tubs will require much more water and more maintenance. You may also want to purchase an additional hose for the designated purpose of filling your spa. Remember to check out the rim around the spa where you will want to place drinks or CDs and DVDs.

Buy Hot Tubs
Back to Guides Directory