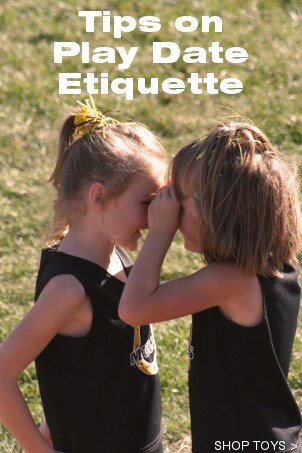 For toddlers and young children, interacting with other kids their age is an important part of development. Small children can entertain themselves for hours with their own toys, of course, but scheduling a play date with a friend, neighbor, or relative can be a great way to get extra one-on-one time with other kids. To have a successful play date, make sure you're prepared in advance and communicate well with the other parent. Here are a few tips that will help make your get-togethers safe, fun, and enjoyable for you and your child.
Happy Play Dates:

Take turns hosting the play date. This will allow your child a chance to differentiate between acceptable behavior as a host and behavior as a guest. For example, the toddlers learn to share toys and respect other kids' possessions.

Get important information before the play date. If you're hosting, tell each parent in advance how long the get-together will last, who will be attending, and which activities the kids might engage in; for example, if your toddler has started playing with blocks and action figures, you'll want to know if the other children have, too, or if they still prefer baby toys. You'll also need to know if any child you're hosting has dietary restrictions or allergies. Make sure everyone has adequate contact information in case someone needs to cancel.

Make sure the children aren't tired. Schedule a time that doesn't interfere with either child's usual nap time. Better interaction and learning will take place when the children are well-rested. Be sure to have a place available where a parent and child can sit alone for a few minutes if the child gets tired. When you're the visiting parent, pack a favorite blanket or stuffed animal to help calm your little one if necessary.

Have a back-up plan. The children may find that the toys in their friend's playroom are novel enough to keep them occupied, or they may need more direction. Plan a craft, a movie (if the other parents are okay with some screen time), or an outdoor game if they need help getting the fun going or if they tire of the toys quickly. But if the children are having fun just playing with toys, you may want to save the activity for another play date.

Plan a healthy snack. If the visit will last 2 hours or more, it will probably coincide with the children's regularly scheduled snack or lunch times. A healthy, non-sugary treat and a beverage, even just water, will give the kids a little extra energy, even as the sit-down time gives them a chance to rest for a few minutes.

Update your baby-proofing. Even if you've baby-proofed your house for your own child, there may be things that another child might get into. Scan your home for any potential hazards. If your child isn't a climber, you may not have secured bookshelves to the wall, but the visiting child might be more active. You may also need a few more outlet covers, some cabinet latches, or even a baby gate.

Occasionally take a field trip. Visits to parks, zoos, and children's museums are fun and educational, and many places have programs just for small children. The trips also give children a chance to socialize outside the home, good practice for preschool and kindergarten.

Shop Outdoor Play
Shop Learning & Educational Toys
Shop All Toys & Hobbies
See All Guides
Read More Toy & Hobby Guides
Learn More about Buying Toys