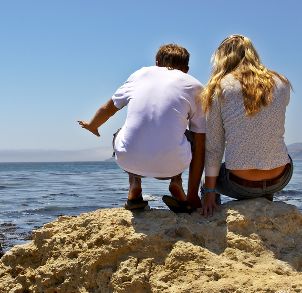 One of the most important parts of the wedding planning process is deciding on the perfect honeymoon destinations. Make the first few days you spend together as husband and wife incredible by planning a romantic honeymoon you'll never forget. Whether you'd like a beach honeymoon or a honeymoon cabin in the woods, the best honeymoon for you and your fiancee is right at your fingertips. Read on for tips on planning romantic honeymoons.
Planning Your Honeymoon:

Pay attention to details. If you want your honeymoon to be as romantic as possible, plan the place and the trip carefully. Once you've booked airfare or decided on driving to various honeymoon destinations, consider local transportation, too. Do you need to rent a car for honeymoon trips? Is there adequate parking if you plan to drive your own car? Is public transportation affordable and available? The best honeymoon will have major details figured out so that you have a fun, romantic experience.

Look at local attractions. For great honeymoon ideas, check out events, places of interest and restaurants in the area where you'll be honeymooning. You can also book honeymoon packages that offer discounts on local restaurants and stores to save time and money. Consider buying massage and spa packages for a relaxing, romantic day together.

Bring your own extras. If you want to create a romantic atmosphere in your honeymoon cabin or have a candlelit dinner during your beach honeymoon, bring candles and rose petals with you. Make the honeymoon travel more exciting by bringing a romantic movie to watch together during the flight on a portable DVD player or reading a classic love story, such as Pride and Prejudice. Your new husband or wife will appreciate the thought you put into the honeymoon details.

Don't forget to splurge. Even if you have most of your honeymoon travel planned out and you have plenty of honeymoon ideas already, make sure you have extra cash on hand for your time together. Once you've booked honeymoon packages and all of the major details are in place, you'll still want to be spontaneous once you're on your honeymoon. Take a rowboat ride, hike to a remote waterfall or get reservations to a four-star restaurant; honeymoon trips are about once-in-a-lifetime opportunities, so make yours unforgettable.

Buy Wedding Planning Supplies
Back to Guides Directory