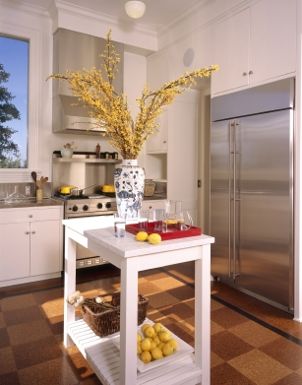 When you need extra storage in your kitchen, a kitchen cart can come in handy. However, you may have some questions about arranging items efficiently on your cart. This guide provides you with tips on organizing a kitchen cart and finding one that works best for your home.
Organizing Kitchen Carts:

Bottoms up. To maximize the space on your wood kitchen cart, you'll want to place large pots and skillets at the bottom and stack them together. If your kitchen utility cart has extra room, you'll want to store large appliances on the bottom shelves, too. Look for a wood kitchen cart that includes a double-door cabinet to hide heavy items, such as crock pots. Or, if you're looking for a different look, a granite-top kitchen cart is especially sturdy and can hold many heavy appliances.

Use shelves to store extra dishes. If your kitchen cabinets are filled with plates, bowls and cups already, kitchen islands and carts are great places to store your stoneware. Buy a kitchen utility cart that includes glass-enclosed shelves or find a stainless steel kitchen cart big enough for storing platters and serving bowls, too, for a more contemporary look.

Keep silverware and utensils in drawers. A steel kitchen cart with drawers will allow you to store extra silverware for guests and keep large utensils off the counter; its sleek design will give you a clean look, too. A drop-leaf kitchen cart with an upper drawer is also great for storing kitchen knives and cutting boards.

Store canned food along the sides. Some kitchen islands and carts feature small shelves with retainer rods designed for spices. Use these extra shelves on your kitchen cart to hold frequently used spices and cooking spray. You can also look for a stainless steel kitchen cart with a towel rack to hang paper towels or hand towels.

Make use of special features. Buy a drop-leaf kitchen cart for extra room when you're rolling out dough; a kitchen cart with a pull-out cutting board is also an excellent place for storing cookie sheets and pans when you're short on space. Shop for a steel kitchen cart that includes metal baskets and wine racks, or look for a granite-top kitchen cart when you want a sturdy cart perfect for chopping meat and vegetables.

Buy Kitchen Carts
Back to Guides Directory